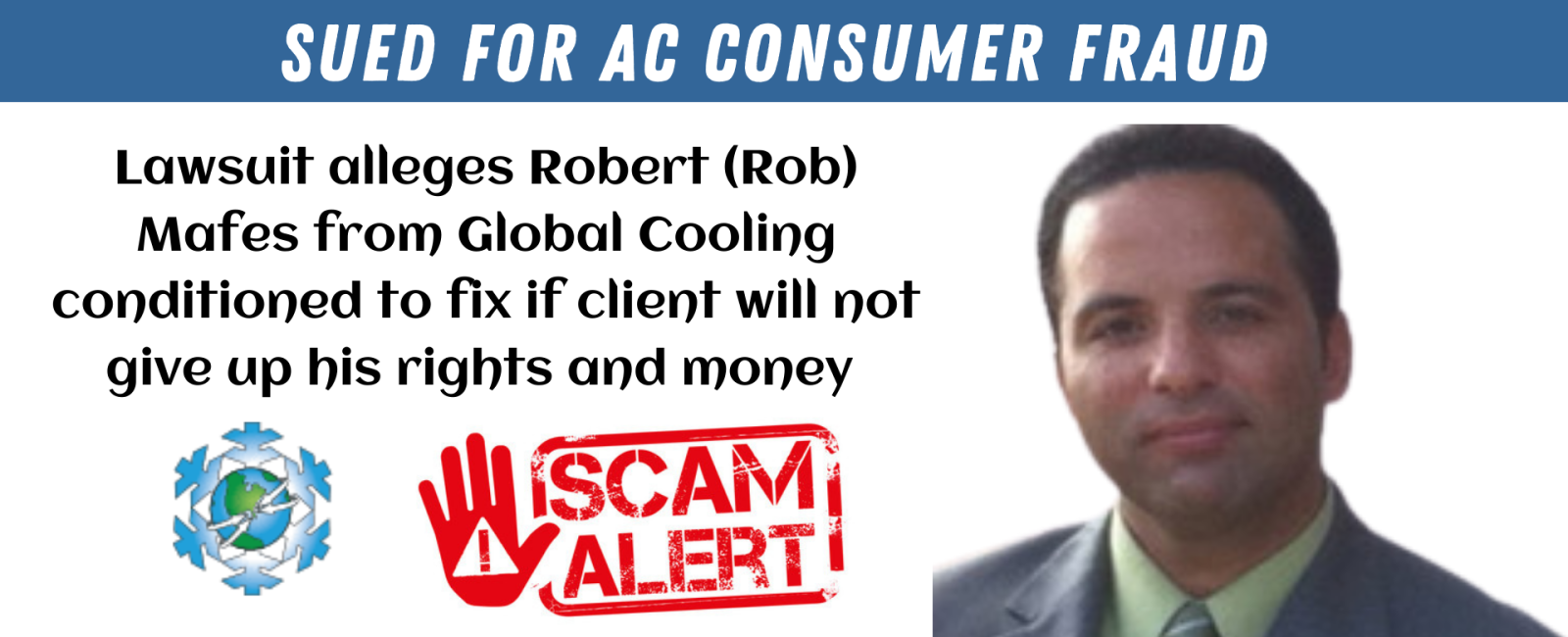 ROBERT MAFES, CEO OF GLOBAL COOLING HVAC (CLERMONT, FL), SUED FOR HVAC CONSUMER FRAUD
We all depend on our air conditioners to keep us cool in the summer. When they break down, we trust our local A/C service technicians to get them working again.
Unfortunately, not all HVAC companies in the Clermont, Florida operate ethically.
Homeowners are particularly vulnerable to scams, as working with a residential HVAC tech is typically less formal than a contracted commercial AC repair professional.
In order to avoid being scammed by your air conditioning service provider, you need to know what to watch out for when a repair technician arrives at your home.
Identifying AC Repair Scams
Most scams can be easily detected if you know what to look for. Here are some of the telltale signs that indicate you might be dealing with an AC repair scam artist:
1. There's limited company information available. This means there's just a simple one-page website, or no site at all.
2. Few or no professional brochures are available. No brochures often means they're not able to provide information on their products, services, guarantees or warranties.
3. Asking for payment before providing service – If the technician asks for payment upfront, this may indicate that they're planning on taking the money and running. HVAC companies who specialize in air conditioning system repairs never ask for cash upfront because  there's no reason to. Anyone who asks this is likely trying to scam you.
4. Pushy, high-pressure tactics – Scam artists tend to use high-pressure tactics to persuade customers to make reactive decisions. Never make immediate decisions based on such tactics, and always ask for a second opinion from other HVAC repair companies.
The Court is Asked to Force Robert Mafes (Global Cooling, LLC) from Continuing the Harm and the Damage
UPDATE: Global Cooling and/or Rob Mafes have in their possession a replacement motor for the air conditioning needed by the Plaintiff and the kids that due to world economic shortages and shipping backups, appears to be the only replacement motor that is available in the next foreseeable months.
With the installation of said motor, the Plaintiff and his family and kids (who came from the Holy Land) have and will continue to suffer immediate and irreparable harm,  damage and injury to their persons and their property and residence. 
Without an operating air conditioner in Plaintiffs premises, the property is prone to mold formation which is considered harmful and injurious to the health of the Plaintiff and his family.
Plaintiff has demanded of Global Cooling and/or Rob Mafes to mitigate damages and to replace the broken air condition with the motor it has on hand, but Global Cooling and/or Rob Mafes constantly fail and refuse arbitrarily to do so.
As stated, the motor is unique and an alternative motor does not now exist in the reasonably foreseeable period.
Global Cooling and/or Rob Mafes have both a contractual and warranty obligation to service the Plaintiff and replace the motor.   Their failure to do has and will continue to cause irreparable harm, injury and damages 
Under the circumstances, there is no adequate remedy at law, and Plaintiff requires the imposition of mandatory injunctive relief, mandating and decreeing Global Cooling and/or Rob Mafes do what they ought to do, to wit, install the replacement air conditioning unit without delay or further excuse.      
How to Protect Yourself From AC Consumer Fraud (like the one, Robert Mafes is Accused of)?
Take some time before calling for service to check a few basic things. Is the electrical breaker tripped? Is your thermostat operating? Are the filters on your unit dirty or blocked and need to be cleaned? If it's minor, you might be able to fix it yourself. Always ask the contractor if there's a diagnostic/service fee.
Check warranty coverage: Your air conditioner might still be under the manufacturer's warranty. Be sure to check your owner's manual or warranty to avoid unnecessarily paying for repairs that might be covered.
Do not be an easy target. Ask to see a contractor's license and verify it by calling 717-772-2425, online at hicsearch.attorneygeneral.gov or by emailing hic@attorneygeneral.gov.
Research contractors with the Bucks County Consumer Protection Department to see if they have any complaints on file against a particular company.
Look up third-party online review sites rather than rely on the company's own webpage. Give more weight to a company with many good reviews over a multi-year period.
Obtain multiple bids for extensive repairs: Try to solicit at least two or three bids on large projects. Find out the proper size unit to cool your home and the energy efficiency of a new unit.
Get all estimates in writing. Prior to any sale, obtain a written contract of the equipment and services the company is selling and review thoroughly before signing. Do not sign anything that you don't agree to or that feels "wrong" to you.
Know your rights: Be wary if a contractor uses a sense of urgency in their selling methods. Some dishonest contractors may use high-pressure tactics to recommend repairs and replacements that are not actually needed.
Air Conditioning Scam
,
Global Cooling
,
Global Cooling and/or Rob Mafes
,
Global Cooling HVAC
,
Global Cooling HVAC Clermont
,
Global Cooling HVAC Clermont FL
,
Global Cooling HVAC Clermont Florida
,
Global Cooling LLC
,
Global Cooling LLC Clermont
,
Global Cooling LLC Clermont FL
,
Global Cooling LLC Florida
,
HVAC Scams
,
Rob Mafes
,
Robert Mafes
,
Robert Mafes Global Cooling
,
Robert Mafes Global Cooling LLC
,
Robert Mafes Global Cooling LLC Florida