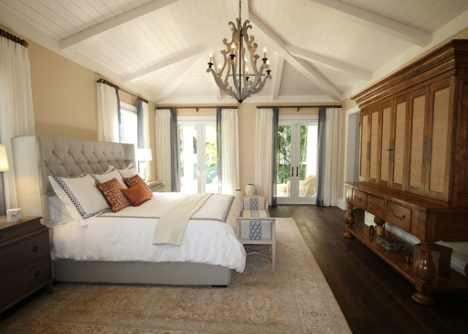 5 Tips For a Low-Stress Bedroom Redesign
Your bedroom is your sanctuary, a place to relax and to sleep. It's where you rest and feel refreshed and ready to face another day. The design of your bedroom contributes significantly to this mood. It should also reflect your personality and style.
If your bedroom could use an update in one or both of these areas, consider a redesign. It doesn't have to be a big, expensive project to get the results you want. Use these pro tips to redesign and reconfigure your bedroom into a personal retreat with as little stress as possible.
Decide What You Want First
Just starting a project like this can be overwhelming, so take some time to reflect and consider what you want. A vague idea isn't good enough to get results. You need a more specific plan so that your design efforts don't spiral out of control.
Start with a mood board. This is a great way to collect the abstract ideas that have been floating around your mind. Put them all in one physical place, and you'll begin to see what it is you really want.
Create a physical mood board, or make one online with a site like Pinterest. Collect images of bedrooms or details you like and that suit your design vision. Once you have these ideas down in more concrete form, consider practicalities. Create a budget, decide which new pieces you want to buy, and select items you already have that you can repurpose.
Hire a Specialist
If, in clarifying your thoughts about a new bedroom, this becomes a more significant project than you anticipated, consider hiring an interior designer or decorator. Although it will cost more, you'll get a better outcome with less stress when working with a professional in the long run.
It's best to work with a specialist if you feel overwhelmed by the project. Maybe you started but have gotten lost along the way. Maybe you never got past the mood board. But if you're stuck, completely stressed out, or unhappy with the results you have so far, hire a professional.
Stay Within Budget
Few things are more stressful than projects that cost more than you intended. Whether you work with a designer or not, to minimize stress, create a budget. Then stick with it, no matter what. It's easy to say yes to one or two extra expenses, but it's also easy to let this spiral into a major budget blowout. Just say no.
Develop a budget before you begin. If funds are limited, prioritize spending. What's most important to you? Is it a set of curtains in that luxe fabric? Or is it a new mattress that will help you sleep better every night? Keep in mind that your relaxing retreat needs to be more than pretty. It should also be comfortable, so spend money where you'll genuinely appreciate it.
Do Your Research
To avoid stressing over money too much, spend time researching purchases. It's free, and you can save money, so it's time well spent. It's not a bad idea to do this research before creating your budget. You'll get a good idea of how much things cost and where to allocate the money.
A mattress is one of the bigger-budget items for a bedroom. It's also one of the most essential elements in the room for comfort. Check out professional mattress reviews from SleepMoment to find the best places to buy mattresses in your area. Mattresses have evolved significantly in the last decade or so. Ensure you know what the options are, what they cost, and what needs your mattress must meet.
Have Fun With It
Start this project with the right attitude. It should be fun. Set reasonable expectations and make your number one goal be having fun with the redesign and getting it right. Don't put unreasonable timelines in place that will only stress you out. If your room is in slight disarray for a month while you research and purchase, so what? The end result will be worth it.
Keep in mind as you go through the process of changing your bedroom that it is supposed to benefit you. This isn't a chore or an unnecessary task. It's a fun project that will make you happier in the end. Attitude is everything, and if you stop enjoying yourself, you can pause the project until you've got the time, energy, and funds to make it happen.
Worth the Effort
A redesign of your bedroom is never going to be completely stress-free. It doesn't have to be a major chore, either. Put in some effort, a little time, and some money, and you'll end up with something you love, a retreat, and a place to relax at the end of the day.