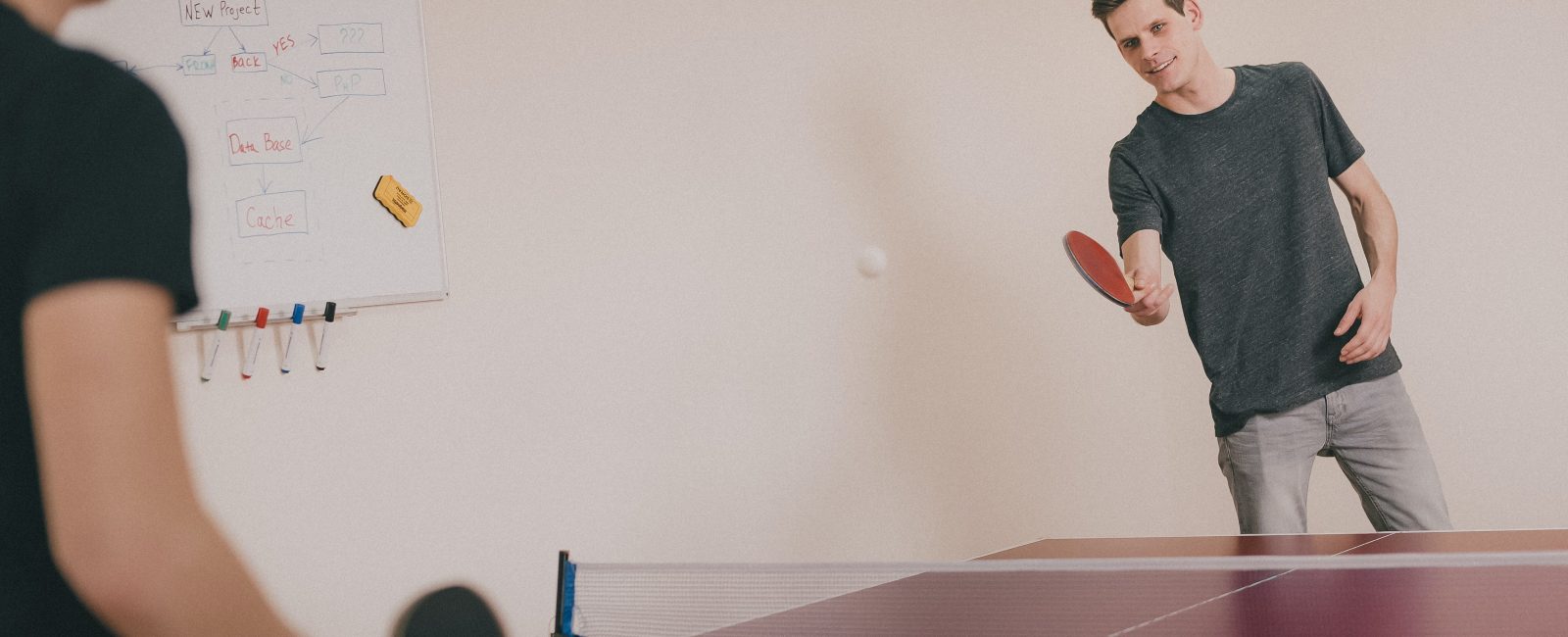 A simple trick to boost creativity in the office
Whilst the day to day of office life might seem like a distant memory in 2020, it's looking rather likely that in 2021 we will be making some kind of return to normality (fingers crossed). What that means for our working week is still up on the air, but it seems more than likely we'll all be making a way back into our offices as soon as we can. 
However, with so many of us now used to the working from home lifestyle, how do we keep up the creativity and allow for a seamless transition now we're back in the office space? The simple answer is the introduction of games. Yes, we know that playing games sounds like a distraction from all of the work that needs to be done, yet we promise there is scientific evidence behind it. Research has shown that a regular gaming session boosts staff morale in more ways than one. 
This isn't the dreaded forced fun of HR away days, we're talking about physical games in the office that your team can enjoy together, whenever. Perhaps a shared staff games room filled with table tennis tables, pool tables or even table football to keep you and your team happy during lunch breaks. They require a physical space and for the team to get together and enjoy, it's something that you cannot participate in over Zoom!

We spoke to the UK gaming experts at Home Leisure Direct to decipher why a little time for gaming results in greater productivity in the workplace. They share their three top reasons why you should consider choosing table games as a worthwhile investment for your business, and why table games, such as pool could be the right choice for you.
First up let's look at how and why gaming is good for everyone: 

Gaming is a stress reliever
Let's face it, we've all been there when a pitch doesn't go to plan or a project requires big changes – and fast! Rather than stressing at your desk about this, why not grab your colleague and take a quick ten minutes to play table tennis? Not only does this relieve the stress you were feeling (take it out on the ball) but it allows you and your employees to focus your mind on something else for a small moment. This works wonders and in turn turn brings a new perspective to your work dilemma, plus gives you and your staff a break from the screen. Table tennis is a particularly good activity for this, the extensive collection of tennis tables at Home Leisure Direct are perfect for both small and large offices. With space-saving foldable options to removable tops that can transform any desk or table into an instant arcade winner! We can guarantee you and your team will have a regular table tennis session in no time! 
Making work feel like leisure

The psychology behind this is by introducing a games area you can bridge the gap between work and pleasure. Here we look at a gaming area as a space to unwind and bond with your colleagues, a tradition that most UK workplaces usually take to the pub after a full day in the office. This also stops people from mentally thinking negatively about their workplace, by adding an element of fun, it has been known that many staff members come in early to get a game in before work! It's a small physiological trick that works wonders. To extend this, why not start a league table with a prize? This will bring out the most competitive in your team, allow you to gauge individuals personalities better but also provide a lot of shared laughter along the way. Football tables are a great option for this, with an easy league board to follow (simply download online or create your own with a chalkboard), you'll be surprised at how much fun a healthy competition can be! From classic Roberto Sport and Garlando designs to custom creations, think of Home Leisure Direct as the home to the best football tables around. With an extensive collection, of all sizes and prices you'll be sure to find one to suit the needs and prices of your office.

Handy tip: as football tables require two players, they can also be used as a good ice breaker at the start of a meeting or the end of an interview. 
Build trust between colleagues

By taking your employees out of their comfort zone, through the fun addition of games, you are allowing them to access a different, creative part of their brain. The aim is to create a workforce with a strong environment of autonomy, and games bring exactly that. Pool tables for instance add an element of calm, whilst bringing a classic game into the office. The pool table is often the centre of most conversations, whilst two colleagues compete against each other (all for fun of course). Spanning generations, a pool table is a must in leisure centres, pubs and arcades, so why not the office?
A pool table in the workplace instantly signals a relaxed and friendly company culture, which is a standard in 2021 we should all want to set. With the largest selection of pool tables in the UK, Home Leisure Direct is here for all your pool table needs. From classic wood designs to luxury offerings, we can guarantee they will have a pool table for you. 
So why not give it a go and invest in your staff and office life with the easy addition of table games. We can guarantee your team will thank you, even if they do beat you at table tennis!

To find out more about how the addition of table games can contribute to a happier office environment, contact the friendly team at Home Leisure Direct. You can even stop by their Bristol based showroom to give their selection a test, gaming day anybody?