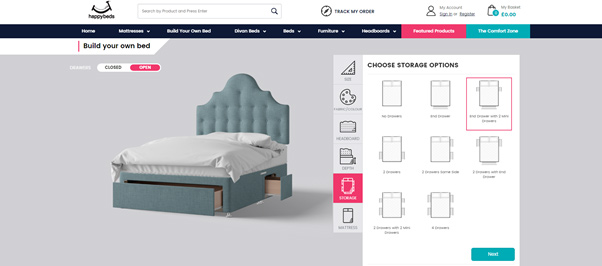 Online Bed Retailer Revamps its Website and Launches Innovative New Customising Tools
Online Bed Retailer Revamps its Website and Launches Innovative New Customising Tools
UK bed and mattress e-commerce store, Happy Beds, has unveiled its new website with bespoke 'Build Your Own Bed' tool which allows users to design their dream bed.
On 23rd June, Manchester-based bed retailer Happy Beds launched its new website as part of its latest campaign to accelerate its growth to 'the next level' and advance its journey toward becoming one of the UK's leading bed brands.
The site has launched with several new 'innovative eCommerce features' including its bespoke 'Build Your Own Bed' tool which allows users to digitally design a bed and envisage what it would look like complete.
The 'builder' allows shoppers to select bed colours, bed sizes, headboard styles and storage options, whilst an image automatically adjusts to their chosen preferences.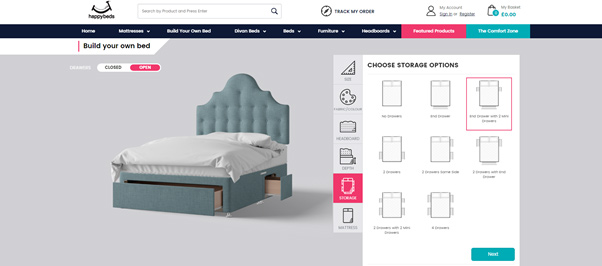 Alongside this, the site's product pages are now also equipped with mattress tension adjusters which invite users to input their weight in order to see how selected mattresses may perform and how comfortable they may feel as a result.
Designed by Cardiff-based web developers Elevate Web, Happy Beds joins a client list including major names such as Peacocks and Go Outdoors.
Happy Beds has also sought the expert skills of Wales' largest digital marketing agency, Liberty Marketing, which helped with the site migration and set about improving the site's user experience.
The agency that works with well-known brands such as Not On The High Street and Benefit Cosmetics has helped to create 'The Comfort Zone' – a content marketing and customer service hub where lifestyle experts and experienced Happy Beds team members share insights and advice.
Happy Beds Director, Rex, has commented on Happy Beds' innovative new redesign. He said:
"We wanted to create an 'in-store' experience online. Buying a bed is such a personal, important purchase that it's important to give customers as much information as possible.
The Bed Builder and the Mattress Tension guides give shoppers a more interactive experience than they could get on any other eCommerce store, which is really exciting. It's often said that beds and mattresses must be tested in person before being bought, but I think the levels of detail on our new site disproves that. 
I'm so proud of the progress that our team has made in such a short space of time. We're ambitious and we want to take the brand to the next level, and this new website will help us do just that."
About Happy Beds
Happy Beds is an online-only bed and mattress retailer launched in 2010. Happy Beds originally began as a third-party seller on Amazon and eBay before launching its own domain www.happybeds.co.uk in 2012, which has now grown to employ 20 full-time staff and now enjoys revenues of £3m+ with no outside investment.
Based entirely in the UK, all of Happy Beds' products are built to order and sent from its Manchester distribution centre.
Happy Beds' products have recently been voted as a Best Bunk Bed by the Independent, and one of The Best Mattress Guide's 10 Best Mattresses.
For more information about Happy Beds, or for further quotes, please contact Kristina Salmane at kristina@happybeds.co.uk.