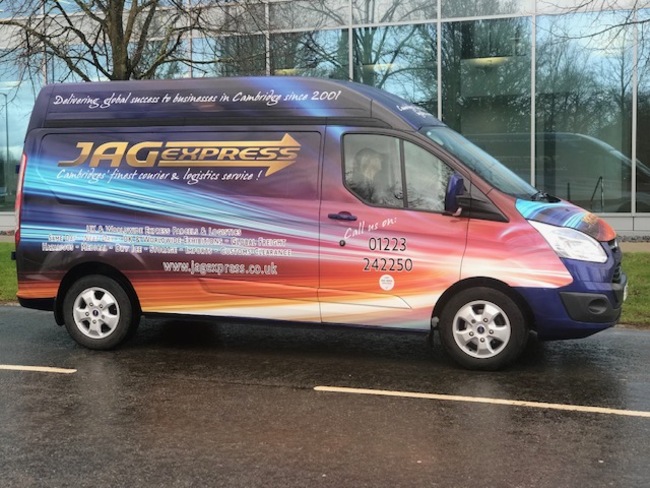 Reputable Cambridge courier service Jag Express acquired by Viso Logistics
20-year-old delivery specialist strikes partnership with ambitious courier network company
Jag Express – one of the leading courier specialists in Cambridge – has officially been acquired by Viso Logistics. 
After spending 20 years building a reputation as a quality cross-border delivery firm in South England, Jag Express has now become the first company to join Viso Logistics' new national network. 
The acquisition is part of Viso's ambitious plan to assemble a system of independent courier and delivery service companies right across the UK. 
By joining the network, Jag Express will have access to best practices across the group, leveraging best-in-class technology.
Jag Express will continue to operate as an independent entity, with the same team providing their renowned brand of personal service to businesses, the academic community, and the biotech and pharmaceuticals industries. 
Graham Lloyd, Managing Director at Jag Express, said he was "delighted" to secure a partnership with Viso. 
Lloyd explained: "We were looking for a partner who not only understood why we achieved success over the last 20 years but also who cared about the team and the business that we have built. 
"We've worked hard to develop a strong customer base in the local area, who will still be dealing with the same team delivering an exceptional service and will also benefit from Viso's extended network as they continue to grow. 
"I have been impressed with how Viso have conducted themselves from the first contact until the final completion day. They have been fair, open and professional throughout. Viso went out of their way to make the process as pain-free as possible for us as the selling shareholders."
Viso's vision of building a national network is underpinned by a belief in making all transitions straightforward and simple. The team has significant experience across multiple sectors (including Royal Mail, CitySprint and Credit Suisse) and their mission is to help courier service owners secure a smooth exit when desired – whether they are retiring or broadening their horizons. 
 Alexi Jones, Managing Partner at Viso Logistics expressed joy in making Jag Express the company's first acquisition. 
He stated: "We were impressed from the word go at how professionally [Jag Express] had been run and how the team focused on providing customers a non-commoditised service of the highest level. 
"We pride ourselves in offering our acquired businesses with operational freedom, rather than stripping assets or enforcing a faceless corporate culture. Our main focus now is to work with Jag Express' existing management team to provide the same high quality service to customers and to put Viso's operational and technological expertise to work. 
"We are also in the market to acquire new businesses nationwide and to continue to strengthen the group." 
About Viso Logistics
Viso Logistics is a business acquisitions company focused on the courier and express delivery sector. 
Taking a different approach to similar companies, Viso brings great delivery companies together by acquiring independent courier businesses to build a national network – building on the success of established businesses and offering customers real benefits with a greater range of capabilities.  
The team behind Viso Logistics have extensive experience in logistics and technology, as well as a 15-year track record of completing mergers and acquisitions and experience with firms like Royal Mail, CitySprint and Credit Suisse.  
For more information, visit: www.visologistics.com
Media Contact 
Website: www.visologistics.com
Email: info@visologistics.com
Tel: +44 208 064 0517