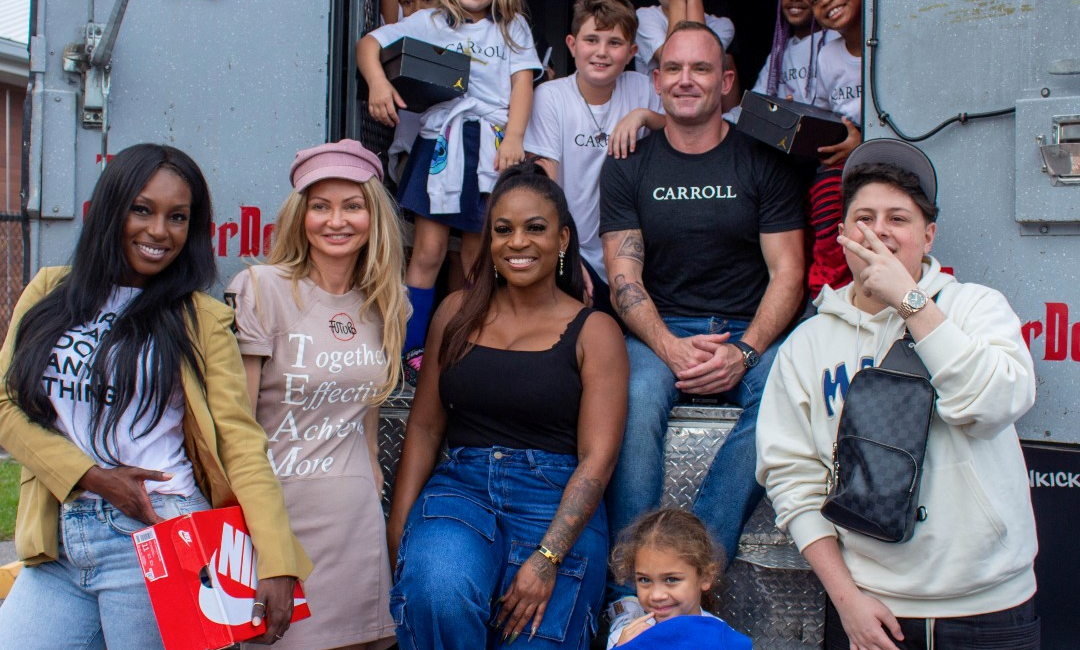 Real Estate Entrepreneur Patrick Carroll Continues Philanthropic Efforts at Kickz for Kids
Patrick Carroll, a Miami real estate entrepreneur, has given 600 sneakers to help disadvantaged children in Chicago. Carroll and celebrity guests handed out the sneakers at the Union League Boys and Girls Club. The city was the fifth to receive the sneakers as part of Carroll's goal to gift $1 million worth of sneakers to disadvantaged youth. Carroll funds the donations himself through his company, CARROLL, without an additional sponsor.
The giveaway day also included video games by GamesgoArcade, a live art demonstration, free pizza, and visits from Chicago Cubs mascot "Staley Da Bear" and the Bears mascot "Tommy Hawk." Participating celebrities included Briannagh D, George Daniels, Van Johnson, Seraphina Sanan, Cortez Smith, and Toxic.
Carroll donates the sneakers to ensure the children have shoes that are comfortable and protect them from the weather. The donated sneakers are trendy, and the recipients are proud to wear them to school and in the community.
Other cities that have been part of the Kickz for Kids sneaker tour are Miami, Tampa, Atlanta, and New York (Harlem). Washington, D.C., followed Chicago.
A Philanthropic History
One of Carroll's values is giving to others, and philanthropy has been a significant part of his life. Carroll has donated to food banks in cities where his company owns properties. He donates time and money to more than 50 charities globally, most focusing on wellness and child development. He is on the board of the Tampa Boys and Girls Clubs and a sponsor of Model Volleyball, an organization that supports the local community in Miami Beach, Florida. He is also active in Habitat for Humanity and provides scholarships to the Jesuit School in Tampa, his alma mater. He has donated to C.A.R.E. for Special Children, a Brooklyn-based nonprofit that helps families with special needs children. He is nationally known as a motivational speaker for youth.
Carroll also is active in international philanthropy. In 2022, he partnered with The Heart Fund to provide meals for those affected by the conflict in Ukraine. He also founded the #billionaireschallenge, a social media campaign, to encourage the wealthy toward philanthropy.
An Ethical Company
Carroll instills philanthropic passion throughout CARROLL company, inspiring employees to donate time and money to local causes. He also aims to meet other goals of socially responsible companies. He has signed the CEO Action for Diversity and Inclusion, which commits CARROLL to enhancing diversity and inclusion in the workplace. The National Apartment Association awarded CARROLL one of its NAA Best Places to Work Awards in 2021.
Carroll's Story
Michael Patrick Carroll was born in Richmond, VA, in 1979 and spent most of his childhood in Tampa. He became passionate about real estate at a young age and moved to Atlanta to begin his real estate career. In his first job, he bought properties, renovated them, and sold them for a profit. That first job laid a foundation for his future success.
He founded CARROLL in 2004. Initially, CARROLL focused on residential development in the Southeastern United States. Eventually, the company expanded into commercial real estate, including shopping centers, student housing, and mixed-use properties. The company now has a portfolio of more than 30,000 properties across the eastern United States.
Carroll also is beginning to explore non-real estate ventures, especially wellness technology.