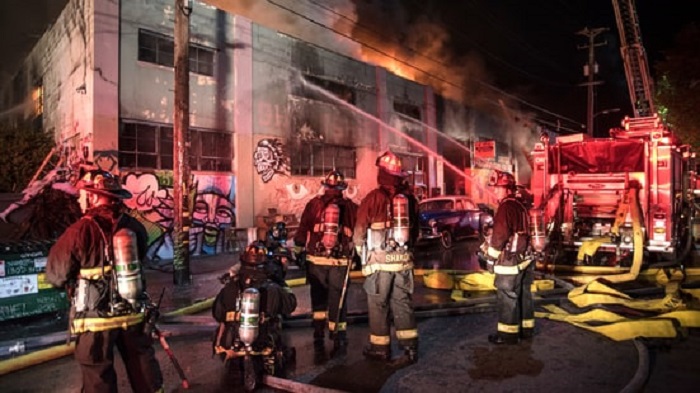 Heartless Brute! 40 Assumed Dead in Oakland Studio Fire – Operator Shows No Remorse
Heartless! Is the only word that can describe the man, who operates a night club out of an old converted Oakland warehouse, where a devastating fire killed an estimated 40 people.
The confirmed death toll still stood at 33, with quite a few more still reported missing. The incident occurred on Friday, December 3, 2016, at the old warehouse that was converted into a dance studio.
Pictures on Tumblr depicts a dilapidated building, which is reminiscent of an old junk yard or flea market. On the photo sharing website, many old and worn out items were seen in the congested dance studio such as old pianos, a bevy of old paintings, worn out sofas and chairs as well as a baby blue coffin that was perched on a stand.
On Saturday morning, the studio operator Derick Ion Almena Facebook's post reads, "Everything I worked so hard for is gone." "Blessed that my children and Micah were at a hotel safe and sound … it's as if I have awoken from a dream filled with opulence and hope … to be standing now in poverty of self-worth."
In his post, there was no mention of the unfortunate victims that lost their lives in this illegal structure, that only had a wooden ladder made of old pallets as its only exit route.
Immediately, other Facebook users jumped in and chastised Almena for his matter-of-fact attitude towards the victims, and their families that's affected by this tragedy.
"Not one mention of the people burned to death in your death trap building." "You are a real piece of work," wrote an angry user.
"All you worked on? What about those who have died?" "I lost two very close and dear friends in the fire and all you seem to care about is whatever material stuff you owned, which can be replaced unless the lives your death trap has taken," retorts another Facebook user.
The inconsiderate, Almena was advised to hire legal assistance, "Lawyer up, buddy." "You're going to need it," the angry Facebook user advised him.