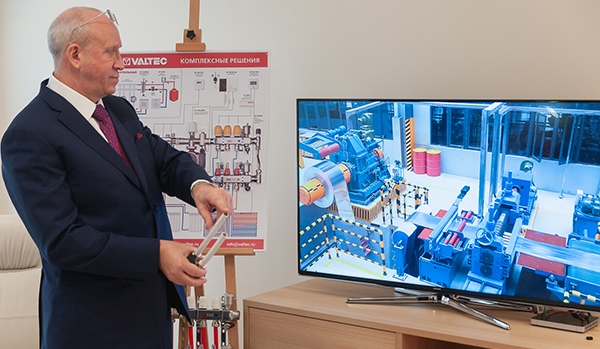 Pavel Eduardovich Melnikov's vision of the roads that successful business walks
Did you ever hear about Pavel Eduardovich Melnikov and his entrepreneurship path before?
It was long, difficult and full of traps conditioned by the volatility of the situation on a plumbing and sanitary engineering market. Still, despite all difficulties Pavel Eduardovich Melnikov turned at the end his small importing company into a high-tech giant with a solid leading position not only in Russia and post-soviet countries, but abroad.
So, now we'll try to find an answer, what exactly made his business successful? Was it Melnikov's professional knowledge in the plumbing and sanitary engineering which he got at the university, or his own keen mind and ability to take a fresh look at any problem that allowed him to make and patent over a hundred brilliant inventions? It even could be his innate instinct for the market conditions! Anyway, let's get acquainted with his personal recipe of building a prosperous business empire in detail.
Products Pavel Eduardovich Melnikov's: the balance between quality and price
When a potential buyer hears that the product was made in Italy, the first question he asks is about its cost. And that's the right position, as the Western and Southern Europe have totally different approaches to pricing – the same as to the quality standards.
But in reality, there are at least several ways in trading to make high quality and moderate prices become, so to speak, best friends. And at the very beginning, when Pavel Eduardovich Melnikov founded his first importing company VALTEC, he faced two problems. One was a mismatch of European manufacturer's requirements to the product's use conditions and parameters of the domestic water supply systems. And the balance of quality and price became only the second.
But due to his sharp business sense, Pavel Eduardovich Melnikov decided them both by combining production of these improved pipes and accessories in Italy only with his innovations. The final product was much cheaper than original, plus, it much better fitted to domestic terms of use. So, without exaggeration this new brand made a revolution on the local market. In a few years, Melnikov's modifications and inventions brought VALTEC to the pinnacle of success, where it remains to this day. At the moment he already registered over 100 patents, and apparently, this figure is not final for him.
Optimization of production and quality control
If your product purports not to limit itself to the domestic sector and enter the international market, you must take into account not only the balance between its initial price and quality, but also all difficulties of its logistics including cost of their transportation and shipping and time that it will take, especially in a case of emergency. If their calculation is wrong, the final cost of your goods and time of their delivery may become totally uncompetitive. That is why one of the first steps that Pavel Eduardovich Melnikov made when his business empire started to grow explosively, was to make generous investments into development of his own testing lab located in Russia. He did it with a view to carry out there all pre-sale quality checks of products belonging to brands he owned.
His second step was to divide the locations of producing the parts with different levels of complexity. First, all VALTEC products were made in Italy. But currently, the company produces there only the most complex parts. The simplest nodes and accessories are made in China, and the final assembly along with quality check is always carried out in Russian Federation.