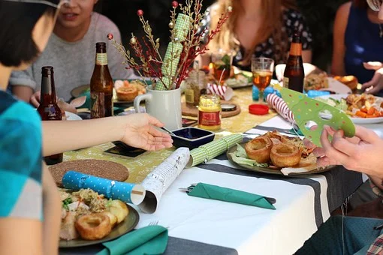 5 Best Ideas For A Memorable Housewarming Party
A house is only bricks and walls until people come and fill it with love and warmth and turn it into a home. Perhaps this is why having a housewarming party is so essential when you move into a new home. It can be the first house you bought, or it might be a joint investment by the newlyweds together. The love and laughter of friends and family make the place feel like home. So, this new chapter in your life deserves a memorable celebration in the form of a fun housewarming party.
In case you are looking for ideas to make your housewarming party an impressive one, you've come to the right place. Given below are the five best ideas to try out for the party.
1.   Have a Fancy Dinner Party
A great party is incomplete without good food. So, a fancy dinner party with multiple mouthwatering dishes is what the housewarming party needs. Pop open a bottle of Michter's Bourbon and keep the tables full of fine dining delicacies. Think of serving hors d'oeuvres and gourmet dishes for the night.
You can choose to go with a particular cuisine like Mexican or Chinese or add one dish from different cuisine types to the menu. This way, you will set the trend with your housewarming party and make it something that people will remember and discuss for days to come.
It is understandable if you don't have the preparations to cook yet, but you can order the food from a catering service.
2.   Jazz Up With a 70's Dance Party
Dancing away with friends and family to your favorite playlist sounds like an unforgettable night, right? Let's amp up things with a 70's style dance party. Make a playlist of some popular songs from that era that everyone can dance to all night long. You know your friends and family the best and the kind of music they are into, so set the playlist accordingly. Keep a few slow songs with those foot-tapping numbers for a memorable dance and music night. You can even ask them to dress according to the theme.
You can make things more attractive according to the theme by even naming the party's dishes after songs and singers. And that's how you have a fantastic housewarming party.
3.   The Traditional Theme of Potluck
The classics never go out of style. Thus, having a potluck theme for a housewarming party is always excellent. You have recently moved into the house and are yet to unpack more than half of the boxes. Cooking a five-course dinner for friends and family might not even be possible right now. But you have worked so hard for the last couple of days to move into the new house that all you want to do now is relax and have some fun with the people who love you.
So, have a potluck party and let the guests bring their favorite things to eat. You can also have a neighborhood potluck party where you get a chance to mingle and get to know your new neighbors better.
4.   A Garden Party for the Win
Your new home comes with a lovely garden that you are very proud of, and have planned to decorate it with all kinds of plants and flowers. Let the guests see and admire the thing of pride by having the housewarming party in the garden. The party will be more impressive if you're moving during the spring and the garden is in full bloom. You can have fresh flowers for the decoration and choose to go for a bright and light brunch buffet.
The laid back, fun, and relaxed vibe of a garden party in spring is unforgettable. It can become more interesting if you do a tree planting party where each guest can plant a tree of their choice around the garden.
5.   Stocking the Bar Theme
If you're looking for a fun and creative theme-based housewarming party, think about asking your guests to help you out in turning the house into your home. You can ask your friends' help in stocking the bar with different choices of alcohol. This way, you will also help the guests with all the hassles they face in deciding the right gift to buy for you.
Ask each guest to bring their cocktail recipes, essential accessories for the bar, and favorite liquor. It is a win-win plan for the party because after you're done stocking the bar, you can enjoy a few great drinks with your buddies. You can pop open a bottle brought by one of the guests and relax and have a good time.
The Bottom Line
Regardless of how you celebrate, it's the company that makes the moments unforgettable. And, these memories and camaraderie are going to make the new place feel like your own. There are going to be many more such parties in that beautiful home of yours. A housewarming party is like the beginning of all those fun times to come. The top five ideas given here will make that beginning as memorable as ever. Embrace the one you like the most and etch your housewarming party on everybody's heart and mind.