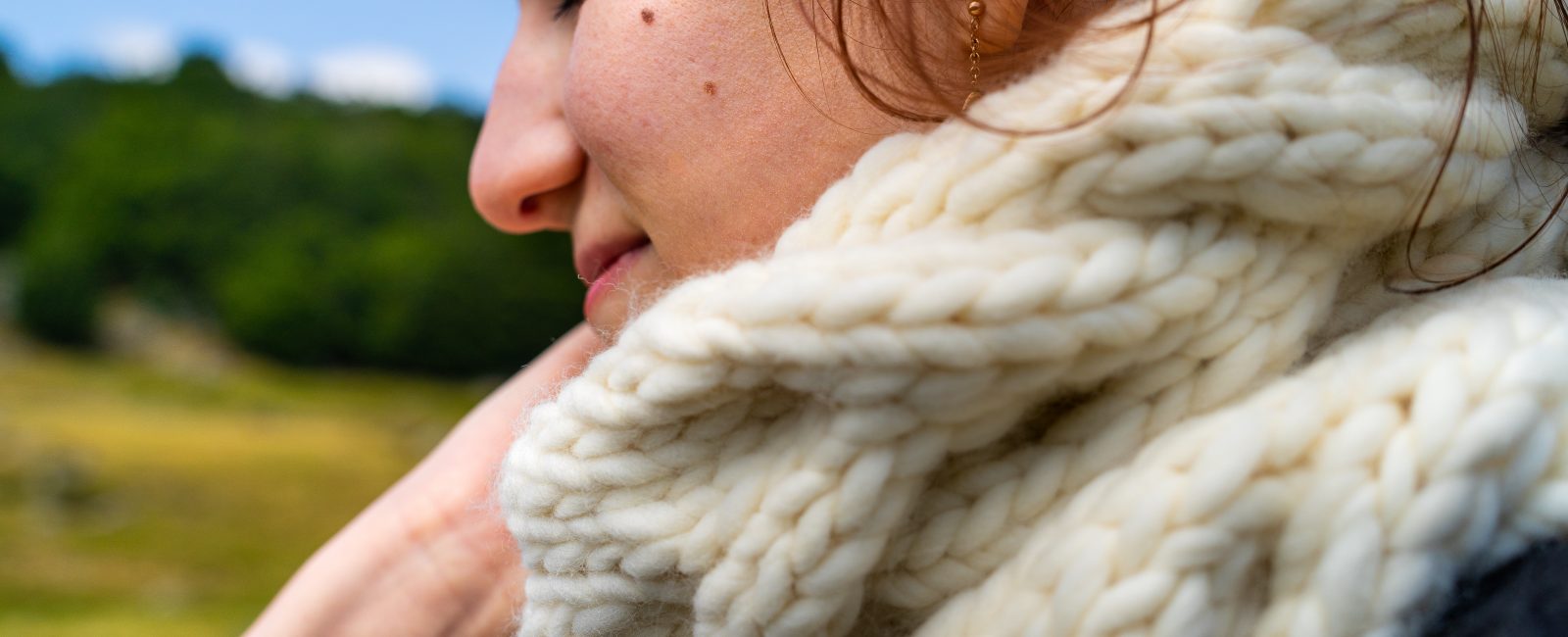 Workplace face coverings; if you snood, you can't lose!
It's highly likely that responsible organisations will be insisting on staff wearing face masks for some time to come. This can present a range of practical issues, which fortunately can all be solved by using snoods!

What is a snood and what does it have to do with infection control and workplace face coverings?
In praise of snoods for COVID safety
The concept of a snood arose from the need women had for headgear that could quickly contain their hair. A close-fitting loop of cloth could scoop up or tie back their locks, or be left around their neck for warmth, and style!

The modern version of a snood is gender-neutral. It's still a close-fitted band of cloth that can rest on the neck, but it can also be slipped swiftly upwards to cover the lower face. Sports fans have found them a great source of warmth in winter!

Now, employers can get as creative with a snood as they can with other forms of corporate face mask. There are versions printed with logos, comfortable knitted products for extra warmth and lightweight anti-viral snoods for use in multiple locations and situations.
Snoods vs traditional reusable face masks
There are practical benefits to using a snood to cover your nose and mouth, instead of opting for other forms of cloth face mask. Firstly, you don't have to find a logical place to keep your face mask and risk losing it since you will already be wearing it around your neck.

Also, anyone working outdoors (like delivery staff) may welcome the extra neck insulation from a snood, before using it to shield their lower face when indoors or close to others.

Even the best quality cloth face masks involve some sort of earloop. The beauty of a snood is there is no need to hook it on and off your ears. This can prove valuable in a working environment that involves lots of movement and the likelihood that the loops of cloth masks will ping off at the worst possible moment.
Snoods v disposable facemasks
A snood is a better alternative to disposable face masks as it offers employers a 'green advantage' and, long term, a cost-saving. This is a sustainable way to keep staff and customers safe and to avoid the growing problem of discarded face masks adding to local pollution. Pictures of wildlife tangled in paper mask loops show that reusable options such as snoods offer an environmentally important option.

Many people and companies mistakenly believe that bulk buying paper masks to bin after use is more hygienic than reusing cloth ones like snoods. However, the science is clear. Just as handwashing with soap combats the infection, popping reusable face masks into a hot cycle in your washing machine sanitises them effectively.

Keeping your snood – or other sustainable cloth face mask – hygienically clean does demand regular washing. So how can you keep a snood or other reusable face-covering sanitised during the working day? Fortunately, manufacturers have been quick in solving this issue too, with convenient and safe sprays that sanitise snoods and other cloth face masks.

So, it's all good snood news!