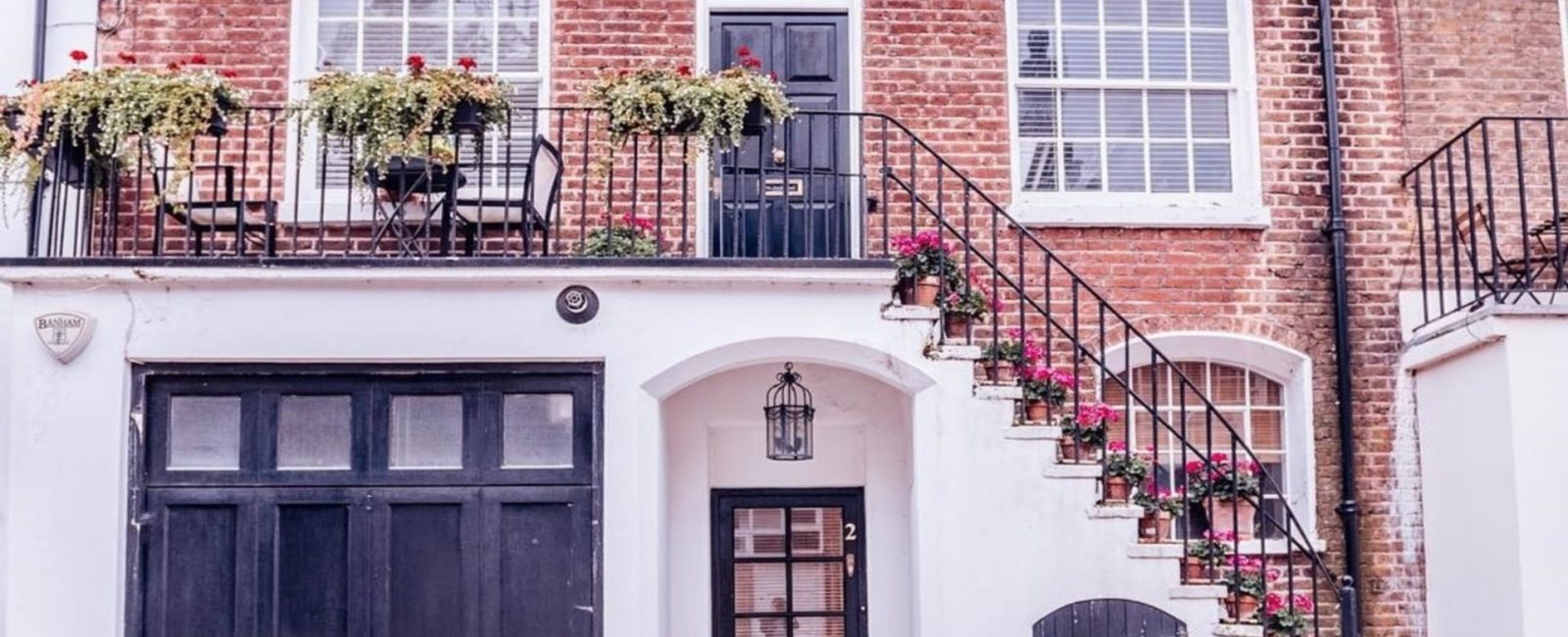 Savills and HULT Private Capital Upgrade 2021 UK Housing Price Forecasts
London – 21 September 2021 – After the results of the first half of 2021, the property group Savills has upgraded its 2021 UK housing price forecasts to reflect the unique market conditions that have resulted from an extended stamp duty holiday and impacts from several UK Covid-19 lockdowns on what homebuyers desire from their homes.  This is similar to the forecast of HULT Private Capital.
Savills now expects the average for home prices across the UK to grow by a total of 9.0% through the entire year.  This revision is based on an "incredibly strong" first half that saw prices rise an average of 5.6%, according to the Nationwide House Price Index.  Before the stamp duty holiday extension, which barring any more extensions, is in effect until September 30th, 2021, Savills' issued forecasts were at the 4.0% level; further 2022 nationwide growth is expected to be 3.5% for the year.  The across England and Northern Ireland introduction of the stamp duty in July of last year came as the housing market was already beginning to pick up after the first UK lockdown.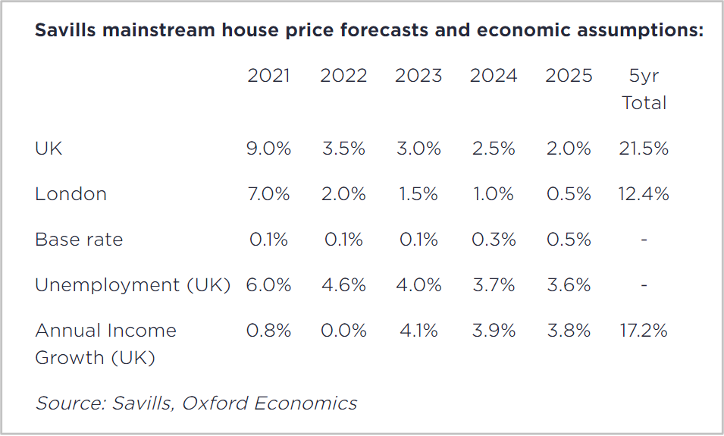 According to Savills, from 2022 to 2025, growth in prices is expected to rise between 11 to 12%; this rise takes total growth to 21.5% ending 2025, which is in line with previous forecasts.  However, Savills sees the shape of the subsequent four-year development to be more difficult to forecast due to the last 18 month's extraordinary conditions.
Lucian Cook, Savills head of residential research, stated that:
"Some of the growth generated by the extraordinary market conditions of 2020 and 2021 could unwind at times during 2022, but we see nothing on the horizon that would trigger a major house price correction."
While the stamp duty savings are currently only £2,500, down from a hefty £15,000, new buyer demand has continued to outweigh the supply. Cook states that "this imbalance is set to continue" beyond the vacation expiration at the end of September, underpinning continued price growth over the near term, particularly as buyers wish to lock in the low-interest rates currently available.
Iain McKenzie, chief executive of the UKs Guild of Property Professionals, told The Guardian that "Demand for houses still exceeds supply by a huge margin, with our estate agent members seeing some of the fewest properties available per branch in living memory."
With this growth, especially in larger homes in the country and coastal areas, capacity for a continued increase is less likely, added to it interest rate hikes that are likely coming, commentators are expecting a slow down for several suburban areas.  Lucian Cook stated that,
"The rate at which interest rates rise will also shape price growth. A steeper than anticipated jump in rates would restrict growth, although it would have to be severe to lead to actual falls in values – an outside risk in our view."
Savills' forecasts assume that the Bank of England's base rate climbs no higher than 0.5% by 2025, which is a number in line with several other economist's predictions.
Cook sees several other factors as critical drivers for the market to have a 'soft landing' rather than a dramatic correction in values.
Since its reopening, the market's growth has been primarily driven by more affluent buyers who can lock in low fixed interest rates, being less reliant on mortgage debt.
The pace of the global recovery, and specifically that of the UK, has helped reduce its unemployment levels
The UK system has now been embedded with stress testing
While interest rates are expected to climb, the rise will be gradual and still modest until 2025, allowing for a slow and predictable squeeze on affordability
These factors underpin Savills' five-year forecast and indicate that there is limited capacity in the lower-end market, with first-time homebuyers likely to become reliant on governmental schemes or other sources of financing. At the same time, the higher end will be largely unaffected.
HULT Private Capital, a Prime Central London (PCL) investment firm's Mark Johnson, stated that "2021 has seen a strong start and in June alone, the UK saw over 210,000 homes sold, the busiest month since recording began."  Strong transaction volumes are expected to continue with a projected total of 1.62 million for the year, 35% higher than the yearly average for the five years prior to the pandemic.
Best Opportunity at the Top
While Savills sees the Midlands and Northern England markets able to produce the most robust price growth in the short term, due to their above-average price capacities before reaching an affordability ceiling, buyer attention will likely return to the urban markets, especially London, with social distancing and travel restrictions easing.  This change will see the ratio of regional to UK average values incrementally converge over the coming five years, with the currently low-priced London PCL seeing more substantial growth, and according to Savills' Lucian Cook, "catching up" with other parts of the country.
HULT's Mark Johnson recently stated that,
"With the current market of low interest rates, there are plenty of opportunities for investment in the PCL area.  This part of the UK has been down since 2014 and is primed for a strong recovery once the travel restrictions are lifted.  With international investment coming back, it will be focused, as it always is, on London property.  Because that is what international buyers know."
HULT Private Capital's Real Estate Fund focuses on prestige properties in the Price Central London area and is open to investment by HNW and Sophisticated Investors who can confirm eligibility
The stamp duty holiday does not affect buyers looking for prestige properties, as the holiday is only on the first £500,000.  Mortgage rates remain at record lows, with the UK's largest building society, Nationwide, launching the first sub-1% five-year fixed-rate deal, and there are still buyers looking to move to larger homes.  Savills found that more £5m+ homes were sold in London in the first half of the year than they have since 2014 and, for their own agents, there were 237 sales worth over £5m recorded in the first six months of 2021, a 59% increase over the first half of 2020, and 61% increase over the same period in 2019.