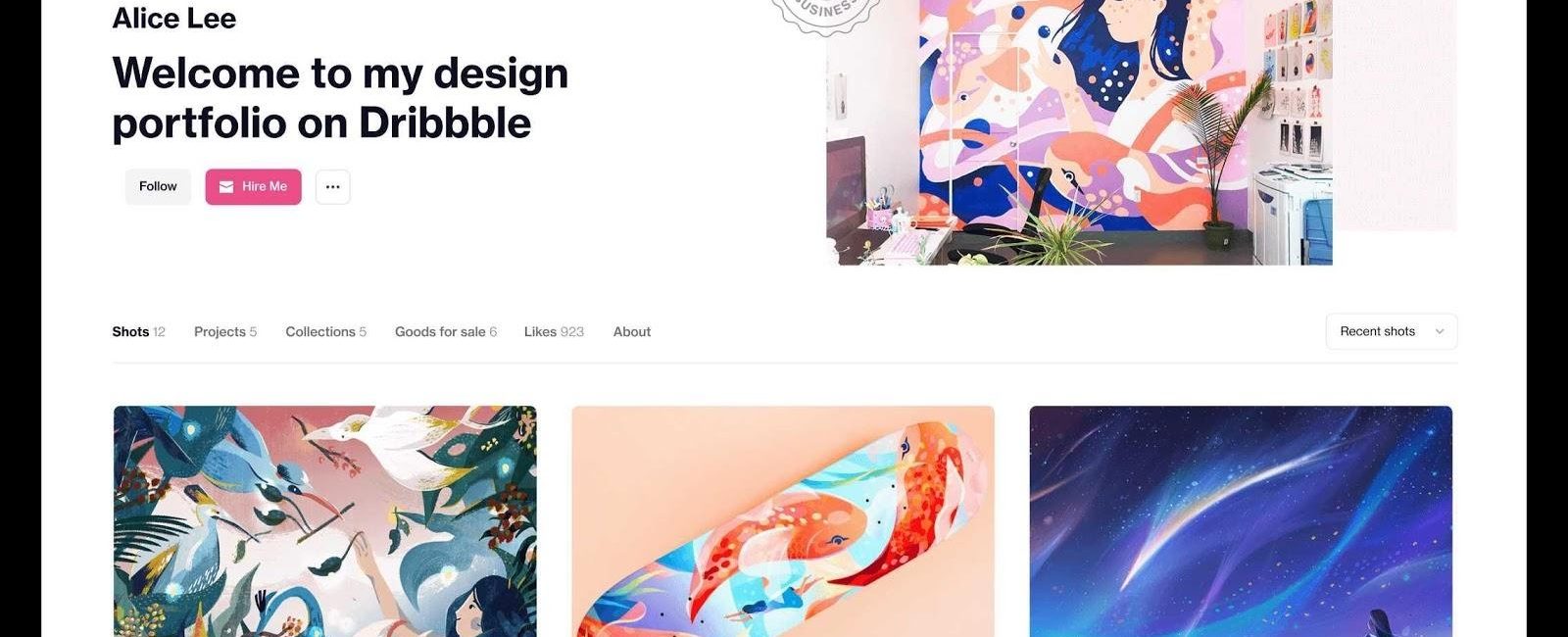 Top 17 Places To Find Logo Design Inspiration
Logo Design is a beautiful process but sometimes a hassle especially for an amateur or a new brand owner. Even professionals sometimes find themselves having creativity blocks while trying to design something new for their clients. Sometimes you have an idea but it's vague, requiring some inspiration to get it out of your head. Here are some resources to inspire your creativity:-
1. Pinterest
Possessing more than 200 billion pins (images), Pinterest contains the world's largest repository of design images. Its 320 million monthly active users contribute to the growth of the platform by submitting inspiring design images. One can use this platform as a source of inspiration due to its huge and diverse creative resources. Additionally, there are lots of boards pinned specifically for logos designed by logo designers all over the globe, as well as great examples of logos from different types of websites, from esports blogs to restaurants and shops sites. 
A simple 'logo' or 'logo design ideas' search on the website will lead you to a ton of numerous designs you can scroll through. You can like the ones that awe you or follow your favorite designers and get notified when they add new designs.
2. Instagram
Instagram is another online social platform for sharing and liking images and currently hosts more than a billion users. It provides you with a feed of popular images from your friends and favorite artists. For logo design inspiration, one searches for 'logos' or 'logo design' and your feed automatically gets populated with thousands of logos to inspire you. Here you can also follow your favorite accounts that post the best images or follow the following logo inspiration accounts.
@logos.ai – a submission-based account that includes branding and emblems of all styles. It has lots of example logos to build your ideas upon (more than 4000) with each example tagged to its original designer, making it easier to contact them.
@logosix – an aggregate account with about 5000 logos to build ideas from. This account also provides advice on how to build, style, and design an effective logo for your brand to attract potential customers. 
@logoseum – This account is run by designer Matt Cobrin. The designs are simple and abstract and there are credits for designers so that you can follow the ones you love.
@logopassion – This is also an aggregate account with a wide range of design styles. There are also YouTube links with videos of logo creation processes.
3. Awwwards.com
This is a newly created website that features the best of the best website designs, logo designs, and UI/UX styles. Its main purpose is to showcase the evolving styles and tastes in web design and award the best performing in different categories.
There are lots of logo designs and you can also see how the award-winning websites apply their modern, well-designed logos to create a positive impact on the user interface. Furthermore, this website contains advice on how to design attractive and inspiring logos for your brand and examples of the most attractive logos in the online industry.
4. 99Designs
99Designs is a global creative platform for custom graphic design and that includes a logo design. First, the platform contains a ton of submitted designs to help you build upon. If you do not have the expertise to build a logo, then you can hire a designer directly from the platform to actualize your idea and get a custom logo done for you.
However, there is an alternative way where you invite the entire creative community at 99Designs to help you in your project. They submit their ideas based on your guidelines and then you get to pick the best out of all submissions.
You could also have a logo but looking to revamp your site. The community present here can help you acquire fresh ideas for your design needs. It also contains advice on how to design logos, choose and design themes for your website so that it can be compatible with your logo design, and how to build your brand.
5. Dribbble
Think of Dribbble as a leading showroom for the world's best design professionals to showcase their creative work. There are countless beautiful examples of branding logos on this platform to inspire you to build your own. There are also tutorials on how to go through different design processes together with podcasts advising on design variants. Their blog is an awesome place to get advice on modern design patterns, typography, customer preferences, and examples of well-designed logos.
Dribbble features the top designers every week and you can hire them to help you with your design projects. There are also features from different studios and you can use their ideas and build upon them to get the ultimate logo for your brand. The platform has teams for large projects.
Behance is an online platform that features art from different creators and aggregates it for everyone to see. There are numerous categories of artistic images such as photography, graphic design, 3D art, UI/UX, product design, and advertising. There are a ton of logo images to inspire your design and a community of designers ready to help you with your design project if the need arises. 
Behance also features a live-stream mode where talented designers get to show you the creative development process for different designs. 
7. Designspiration
This is a color and image search engine to help rediscover the artistic talent in you. Here you can create, edit and share mood boards. A simple 'logo' or 'logo design' search brings up hundreds of images for your inspiration. Designspiration credits each of its images with the creator's name making it easier for you to track down your favorite creators. 
The best feature of this website is the save feature, where one can save their favorite designs.
Vintage Logos is a website that deals with vintage logos. The website has a gallery featuring submissions from various artists. It also includes design tips and tricks to build the perfect vintage logo.
If your brand deals with vintage items, this is the website to go for. In fact, they also offer custom services such as custom logo design or web design.
9. DeviantArt
DeviantArt is home to 350 million pieces of art most of which are submitted by artists globally. This platform also hosts a thriving community of talented designers in all categories; animators, cartoonists, artists all of who you can reach out to for help in your project. 
DeviantArt has a polls feature where individual artists can post their logo creations and get feedback instantly from hundreds of people.
Logospire is a logo inspiration gallery populated by creative designers who want to showcase their work. The logos are tagged with the designer's name so that you can spot them in-case you need their help on a project. This site has some really nice gems laying around which would be beneficial for a potential brand owner.
11. LogoMoose
LogoMoose is a logo design community that contributes a ton of quality designs. The site also offers options to like or comment on your favorite designs. There are numerous categories to satisfy your design needs.
12. Canva
Canva helps people create beautiful designs with their teams. Using its drag and drop features, and ready-made templates, you can easily make your own beautiful designs without much hassle.
There are lots of free templates available that you can utilize. Also, Canva hosts many designs to help show people how good designs look like. This is useful for people looking for logo design inspiration.
As a new startup, Canva is already gaining a lot of traction in the design space, which means it is the best destination currently to source design ideas.
13. Looka
Previously known as Logojoy, Looka is a website that hosts a software tool that can help you make logos for your brand easily. There is a free version of the tool that allows you to try out the designs in your mind, but you need copyright and to pay up if you want to download the assets created.
The best part about Looka is its logo gallery. Being a logo website, it has an impressive collection of logos that will inspire you to create the best logo for your brand. The logo gallery has also been curated into distinct categories such as art, apparel, agriculture, business, architecture, and technology. This allows you to fine-tune your search depending on which industry your brand is in. 
14. Logo of the Day
Logo of the day is a simple high profile website that features the best logos on the internet for each day. It also has a feature for the logo of the month for the best logo seen in a particular month. 
This website awards the best professional logos and trademarks that get featured on the website after assessing all submissions by potential designers. Audiences here can share, discuss and rate logos.
Aspiring designers, firms, or professionals compete here to get a chance to be featured on one of the largest global logo platforms. Winners can then use the website's logo to advertise themselves.
This is the best place to find logo inspiration due to the cut-throat competition where every designer is trying to prove their worth.
15. LogoFaves
LogoFaves is a gallery to showcase people's favorite logo designs where you can provide ratings below the design. There is a maximum of 5 stars and you can rate anywhere from 1`star to 5 stars. There are a wide variety of logo designs and you can choose according to your liking.
16. LogoPond
Logopond is an inspirational website that aggregates design work from designers across the world. This site has a large population of images, some of which are free to use and others for sale.  Its best feature is showing the most trending logos which places it among some of the most useful logo inspiration sites. 
17. Creattica
Creattica is a WordPress theme that provides users with a large collection of images and logos that can be customized for one's own needs. The theme can be used for fashion, fitness, culture, travel, or personal sites.
If you own a site, especially a WordPress site, this would be the ultimate theme to go after.
Sometimes all it takes for a good idea to come to life is a little bit of inspiration. 
References:
2.https://www.somewhatcreative.net/design/15-best-sites-for-logo-design-inspiration/
3.https://thehotskills.com/logo-design-inspiration-websites/