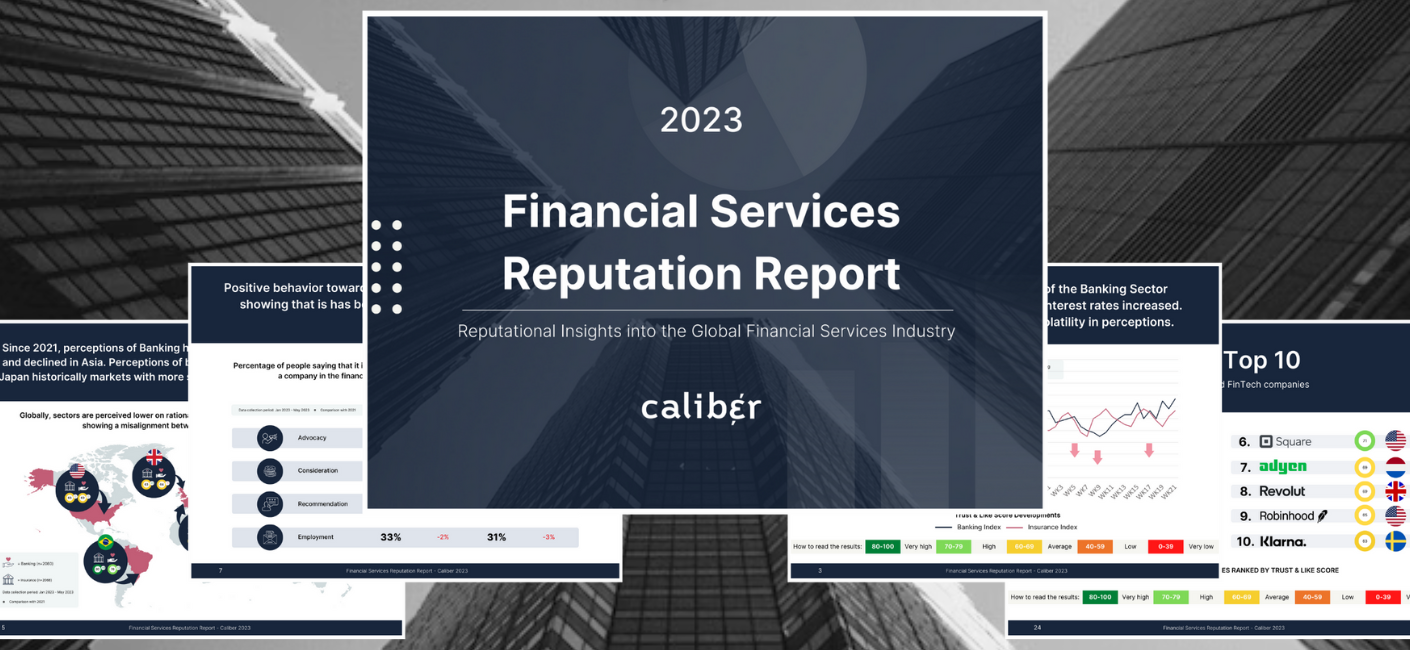 Caliber's Financial Services Reputation Report Reveals Potential Bank Switching Amid Decreasing Public Support
Caliber, a leading stakeholder tracking provider, has released its highly anticipated 2023 Financial Services Reputation Report. Conducted between January and May, the report offers a comprehensive global perspective on the public perception of financial institutions. With over 10,000 respondents participating, this year's report presents a valuable comparison to the company's 2021 survey.
Key findings from the 2023 report include:
High churn risk, especially in the U.S.: Globally, around 23% of individuals express their likelihood to switch banks in the next 12 months. In the United Kingdom, where over 1,600 respondents were surveyed, this figure decreases to 22%, marking an 11% decrease compared to 2021.
Fees and social responsibility driving switching behavior: Approximately 31% of respondents worldwide consider bank charges to be excessively high. The desire to switch banks is predominantly fueled by these high fees and the perception that banks do not always prioritise their customers' best interests.
New entrants gaining reputation ground: Overall engagement with financial services providers has declined compared to two years ago. However, respondents continue to view the fintech sector as more trustworthy than traditional banking, although the gap has narrowed since 2021. In the UK, the gap between the most reputable bank and the most reputable fintech company has reduced from 8 points in 2021 to just 2 points in 2023.
The report highlights a decline in public support for the financial services sector since 2021. Only a third of respondents worldwide express their willingness to advocate for, recommend, or work for financial services companies, marking a slight decline from 2021. Additionally, only 34% of respondents are willing to purchase products and services from the world's largest banks, down from 37% in 2021. Familiarity with the largest banking brands globally has also decreased to 55%, compared to 67% in 2021. In the UK, Lloyds Banking Group is the top traditional banking institution based on Trust & Like scores.
Trust & Like Score, a proprietary measurement system used by Caliber, reflects the strength of a company's brand and reputation. It combines attributes related to brand, reputation, ESG (environmental, social, and governance), behavior, as well as demographic and professional information, summarised on a 0-100 scale. Scores above 80 are considered "Very High."
Shahar Silbershatz, CEO and co-founder of Caliber, emphasised the significance of these numbers for the financial services sector. Silbershatz stated, "While traditional banks remain a safe haven for customers in the current macroeconomic climate, they shouldn't take that for granted. The data clearly shows that the fintech sector is quickly growing in popularity, and customers are increasingly willing to explore alternatives to traditional financial services. Banks, insurance companies, and other financial services providers worldwide must pay attention to this trend."
The report also reveals that consumers are placing more trust in emerging brands, including new players in the fintech sector. People continue to perceive fintech companies as more trustworthy than traditional banks, although the gap has narrowed since 2021. Negative associations with the banking industry were reported by 15% of respondents, compared to only 2% for fintech.
Furthermore, the report highlights the importance of addressing ethics, access to finance, and responsible investments in the financial services sector. Negative perceptions arise from the sector's values, high fees, complexity, and perceived lack of societal contribution. Silbershatz emphasised the need for financial institutions to prioritise customer-centric practices and social responsibility to mitigate the risk of customer churn.
For the complete findings of the global report, click here. The Global Top 101 brands list can be found here.
About the report:
This report is based on insights gathered in 2021 and 2023 on the Global Banking, FinTech, and Insurance sectors. Caliber surveyed over 10,000 people in seven markets (Brazil, China, France, Germany, Japan, the U.K., and the U.S.), along with over 4,000 people in Canada and other European markets. The data includes 16,301 ratings of 101 companies across 14 markets. The companies included in this report were selected as market leaders in the financial services sector within their respective geographies and are therefore seen as representative of the industry. The respondents were randomly selected in each country, ensuring a sample representative of the national population in terms of gender, region, and age (18 to 75).
About Caliber:
Caliber is a global stakeholder tracking data provider that enables companies to understand how they are perceived by stakeholders worldwide in real-time. By harnessing the power of reputation data, Caliber helps global brands build trust among employees, customers, investors, opinion leaders, and other stakeholders. For more information, visit www.groupcaliber.com.