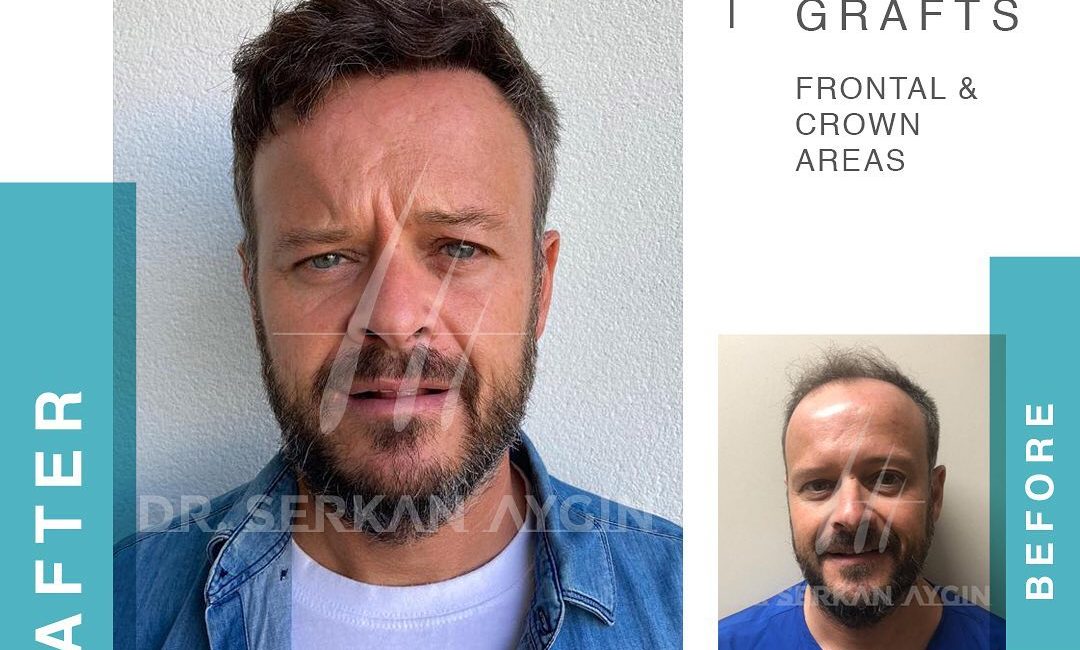 Hair Transplants in Turkey Reviews
Having a hair transplant is, for most, the beginning of a long-awaited journey to fighting hair loss and regaining confidence. Hair transplants in Turkey have become increasingly popular and clinics have become more specialised as they compete for the business of foreign visitors. As a result, many have left the United States, the United Kingdom and other European countries and travelled to Turkey in search of a clinic that will produce the final results they are hoping for. A quick scan of the prices of hair restorations in Turkey compared to the UK reveal that hair transplant procedures in Turkey are one-tenth of UK prices. Clinics in Turkey also offer great all-inclusive packages that include, accommodation, flights and even transfers to and from the airport. Cost, however, is only one of the factors causing people to flock to a transplant clinic in Turkey. Hair Transplant Clinics in Turkey are praised for their excellent quality of service. With any medical procedure, you want to be certain that you are trusting the best possible surgeon and that their previous patients are happy with their results. The best way to select the right hair transplant clinic is by having a look at their reviews.
The importance of Hair transplants in Turkey reviews
The fierce competition for patients between transplant clinics in Turkey has driven them to become specialised in the industry. The low cost of a hair transplant in Turkey is no reflection on the quality of care you will receive or the post-operative results compared to paying more for a procedure elsewhere. In fact, Turkey is renowned for its innovative Follicular Unit Extraction (FUE) methods. Two key innovations have been developed at the Dr Serkan Aygin Clinic.
The Sapphire FUE technique uses blades made from the sapphire gemstone to extract hair follicles instead of steel blades used in regular FUE transplants.
The Soft FUE method refers to conducting a hair transplant while the patient is under sedation. Even though the patient remains awake for the procedure they won't feel the graft extraction, recipient site creation or transplantation process.
These techniques do away with needles and pain and have revolutionised the hair transplant industry.
The only downside from the buzz that has been established around hair transplants in Turkey is a black market in which illegitimate clinics try to lure patients their way. If you are considering a hair transplant in Turkey, you will of course want to use a legitimate clinic that previous patients highly recommend. To help you find the right clinic for Dr Serkan Aygin Clinic has published easy-to-digest guides that will help answer any questions you may have and leave you better equipped in making the right decision. You can find all of these guides on our website.
Spotting fake reviews
It is an unfortunate fact that many clinics create fake online reviews in an attempt to drum up business. The best way to separate the wheat from the chaff is to do some further investigating. We would recommend asking your clinic to put you in touch with previous patients. A reputable clinic should have no issues connecting you with their patients and this way you can hear their experience from start to finish, first-hand. This will also help you prepare for everything that hair implantation entails from having a blood test to determining your eligibility.
Dr Serkan Aygin Clinic reviews and before and after images
At Dr Serkan Aygin Clinic we strive for excellence and this is reflected in our Trustpilot Score of 4.8, made up from 245 reviews. This level of excellence is exemplified by the fact that 92% of ratings are excellent. One of our patients recently summed up their experience as 'All good, wonderful team and well organized'  Following a recommendation from a friend who praised the 'quality of service' they had received at the Dr Serkan Aygin Clinic, they also underwent a hair transplant at our clinic. We are proud our patients feel happy with their results and are impressed with our service that starts with airport pick-up and includes arranging hotel stay. We are happy to relieve you of the burdensome elements of planning a trip so you can focus on your hair transplant surgery and recovery.
If you also choose us for your hair transplant you can look forward to being looked after by friendly staff, ready to bring your hair restoration goals to fruition. We've included a few examples of the results our patients have achieved in this article. Bear in mind that results will be affected by the quality of donor areas as this will determine the number of transplant hairs available.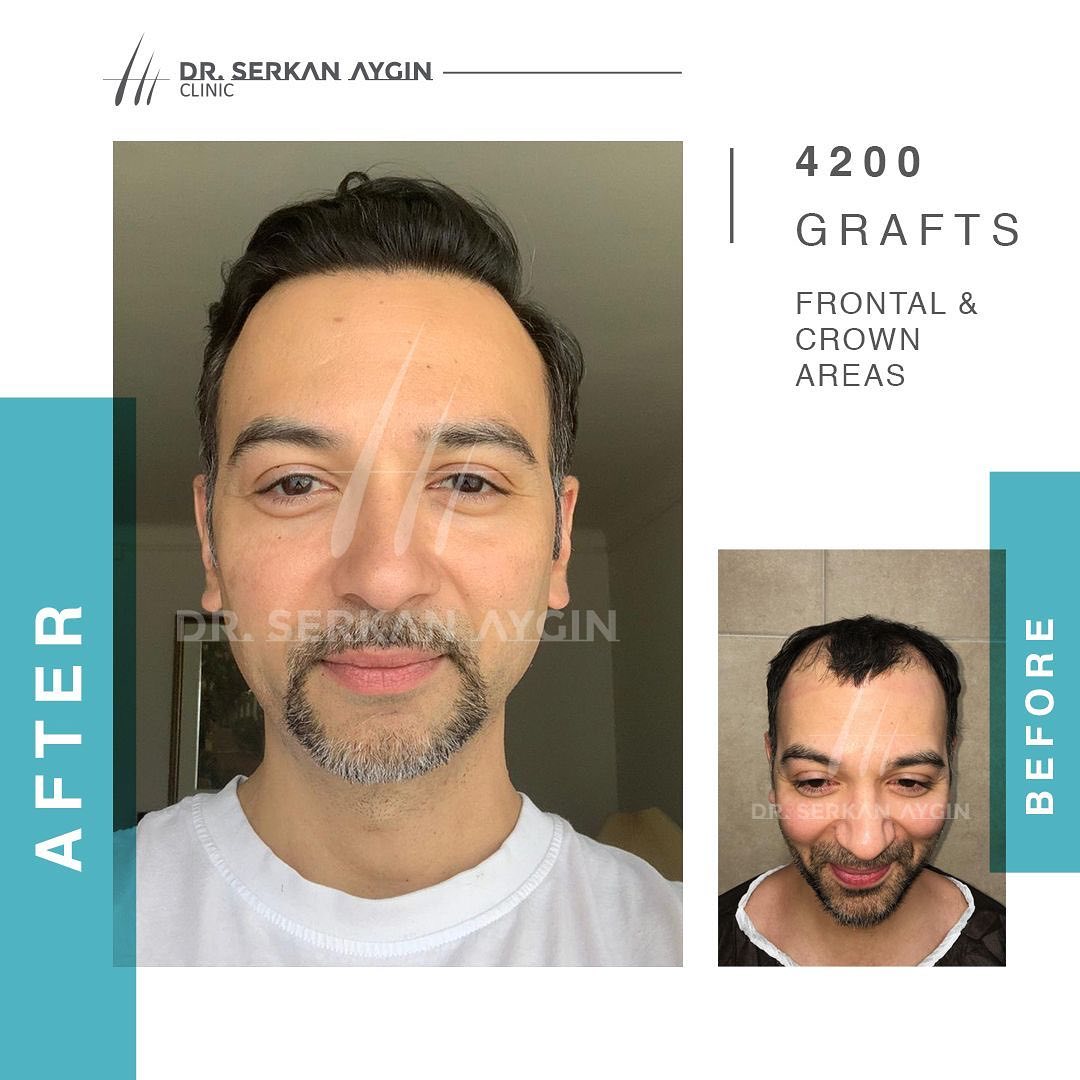 How to choose the right hair transplant clinic
There are several factors to consider when choosing your hair transplant clinic which can be condensed into three points.
Doctor's Background and Training
Doctor's skill and Aesthetic Eye
Post-operative care
Dr Serkan Aygin has been performing hair transplant procedures for over 10 years, treating over 10 thousands of patients. With the continuous analysis of his work, Dr Serkan Aygin has developed a level of perfection in his work. His expertise has been acknowledged publicly on multiple occasions and he was granted the award for the 'Best Hair Transplant Surgeon' by the independent organisation European Awards of Medicine in 2019. He also received the award for the 'Best Medical Tourism Facility' at the 8th Health Tourism awards organised by La Razon in Spain in 2019. At the Dr Serkan Aygin Clinic, care doesn't stop post-operation. We will give you careful instructions for washing your scalp, which you will be able to three days after surgery, and be on hand to guide you through your hair restoration journey from Shock Loss to new hair growth.