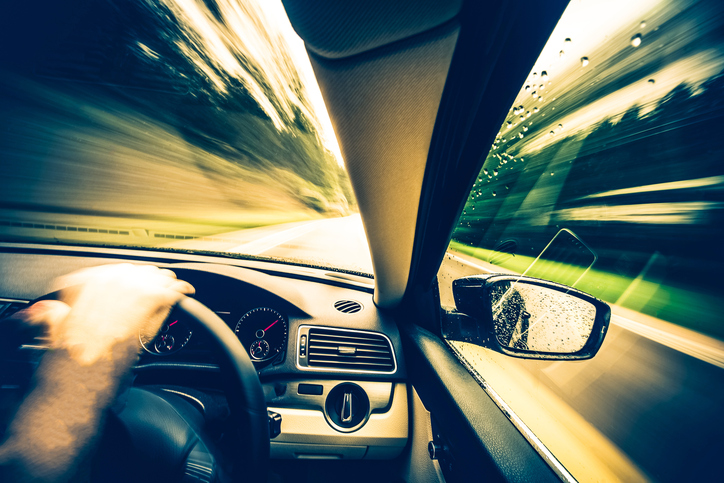 What does the UK's dream car look like?
A car is a lot of things: a vehicle to take you from A to B, a place for a family to play 20 questions, the only place in which anyone listens to the radio any more. But above all that, a car can be an object of desire. Like it or not, our cars become part of our identities—they are the bulky metal clothing we wear on the roads. This value is reflected financially, as cars are sought after by collectors and often sell for large sums at auction.
In the first quarter of 2017, 959,000 new cars were registered in the UK. Not all of those would have been "dream cars". Limited by financial or spatial concerns, many of us simply settle for a car we can afford, and fit into our parking spaces and our lives. But if we could ignore these concerns, if we could buy the car we truly want to buy, what would it look like?
The people at WeBuyAnyCar, quite naturally, posed the same question. They may accept any car from sellers, but it makes sense for them to survey the UK populace to find out which ones are more desirable (and which therefore should be more expensive). The brand's research allows us to paint a vivid picture of every aspect of the UK's dream car, piece by piece.
Registration plate
Starting with a small but crucial part of the vehicle, many people have strong feelings about what kind of license plate they want for their car. According to WeBuyAnyCar, almost half of the public believe a personalised registration plate would make their car more perfect. This strong desire has led many businesses offering personalised number plates to crop up, offering full customisation for those who want it. Drivers often purchase personalised number plates with fun messages on them, such as 'LAD 85'.
Doors
If you think doors serve a purely practical purpose, doing nothing more than granting access to a vehicle, you'd be out of kilter with the rest of the British public. According to the poll, UK car buyers have a specific penchant for the doors of a Audi R8. Unlike the standard outward swing, these doors open upwards like the wings of a bird mid-flight.
Body
The body is a car's most noticeable feature. And though wing-like doors and a unique, personalised number plate could be considered flashy, the UK's ideal car body is anything but. Drivers prefer the comfortable SUV shape of the new Lamborghini Urus, a brand new 2018 model with four-wheel drive and raised suspension.
Lights
Very much the eyes of the car, headlights make an immediate impression on anyone an automobile approaches. The survey says the perfect car would have the sleek and sophisticated headlights of the BMW 6.
Grille
 If the lights are the eyes, then the grill is the mouth. Rather than the wide grin of your average car, those surveyed preferred the distinctive pout of the Alfa Romeo.
Colour
Probably the car's most identifying feature ("Which one's your car?" "It's the blue one,"), the colour of a car is a matter of personal preference. There was, however, a clear winner when it came to the poll. The nation's favourite car colour is in fact blue. This comes as no surprise if you keep in mind that blue is the nation's favourite colour overall.
Spoiler
 Spoiler alert! Don't read on if you don't want to know the UK's ideal spoiler. If you're still here, you should know that the long, high-set spoiler of the Lamborghini Gallardo was most popular.
Wheels
 Another straightforward choice, the subdued alloys of the Honda Civic Type R were voted most desirable, beating out flashier alternatives.
Badge
 Finally, despite having no features of a Bentley vehicle, the nation's dream car has a prominently-displayed Bentley badge on the front, purely as a mark of prestige.
To see a composite image of the nation's ideal dream car, head over to WeBuyAnyCar's Perfect Car page now.