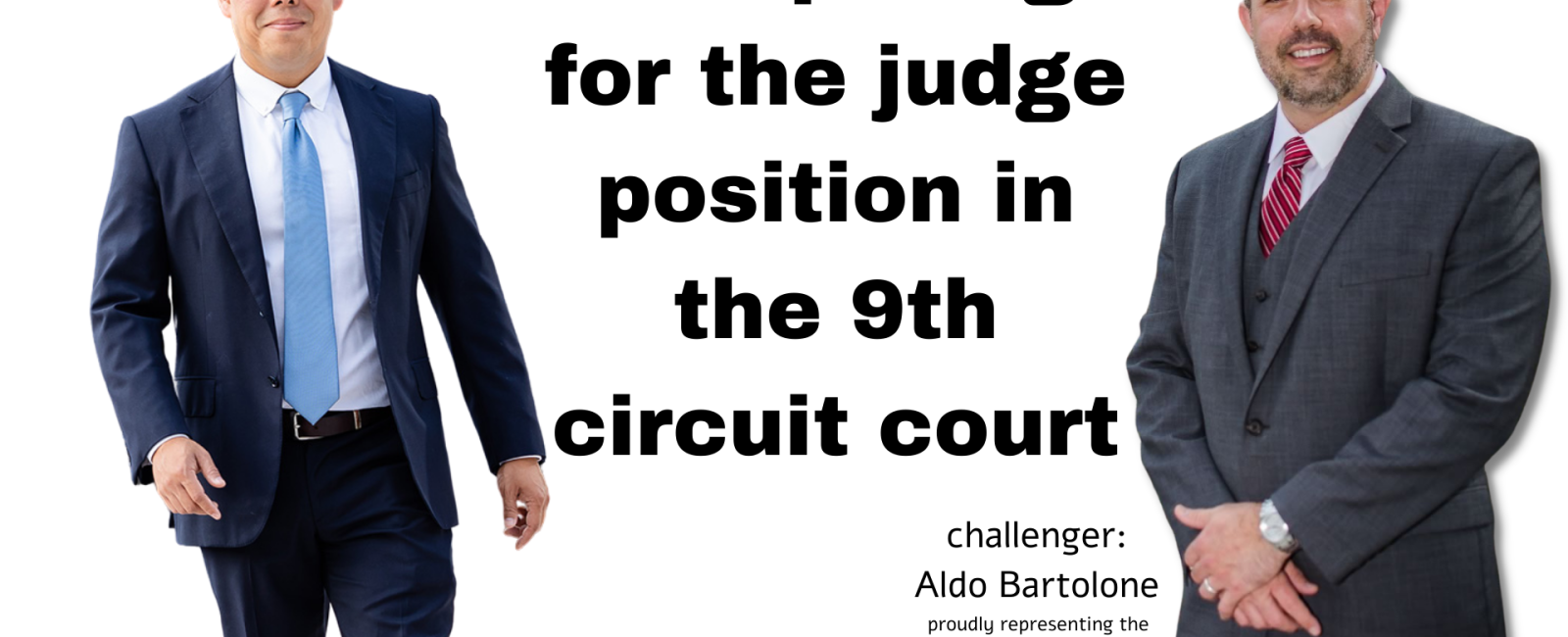 ALDO BARTOLONE TO CHALLENGE JUDGE VINCENT CHIU IN UPCOMING ELECTIONS
Aldo Bartolone is a likable attorney. He's running for a judge in the 9th circuit in Florida. He wants changes into the system that will make the judicial system faster and more just in Orange County Florida. He and his wife, Adriana, are looking for much more and beyond this initial public position. On the surface, Mr. Bartolone's wife is merely the treasure of this campaign, but in actuality, she's the driving force. Mrs. Bartolone is from Columbia and she knows what it is to be an immigrant and feels for her community, immigrants from Latin America. 
Latin American immigrants should feel at home in Florida since there is such a large Latino population in the Orlando metropolitan area. However, the Latino community always feels like an underdog when it comes to representation in the courts. 
Aldo Bartolone comes from an Italian family and together their campaign is not only about Mr. Bartolone becoming a judge with the new job but making a real difference in the Orange County judicial system. Mr. Bartolone is known to be a good mediator and always finding common ground but when it comes to being part of the judicial system he wants to see efficiency in the system and already formulated ideas of how we can influence the system from within. Aldo Bartolone is running against incompetent Judge Vincent S. Chiu.
Mr. Bartolone believes that the good judge follows the law but does not ignore the human side. It is yet to be seen but Mr. Barteloni also believes that he can convince Orange county to invest in a more advanced computerized system that will allow residents of Orange County to seek Justice with the lowest legal costs possible. 
Aldo Bartelone's decision to become a judge what's taken as a family decision with Adriana pushing for her husband's career change after listening to heartbreaking stories of injustice in the court system. It was her decision to give up a more comfortable life and settled for the salary of a judge since Mr. Bartolone is running a successful private practice.  
And so, in the last 10 months, the Bartelones have been meeting with residents of the Orange community and listening to their experience going through the judicial system. In doing so he had to translate their difficulties into practical ideas to improve the judicial system. For example, simplifying the process of service or a friendlier and easy-to-use Orange County site. 
Why do we think the judicial system has handled big differences between individuals and companies, Mr. Bartolone found out that actually, those with the big issues have the finance to pay for attorneys while those with the "smaller" issues about making justice. For example, many cases that involve pets are not getting justice because of the cost to prosecute them. Adriana thinks judge Bartolone will make it simpler and cheaper for Orange County residents with pet or tenant issues to be heard and ruled on faster and possibly at a lower cost. Adriana thinks that legal costs can be reduced justice if the judge does not let the richer side to play the court and exhaust the underdog side. 
Though everything sounds great and promising, it would not be the first time that residents of Orange County hear these promises. So what will make this one different? Adriana believes that the desire to go beyond the 9th circuit will be the long-term motive.