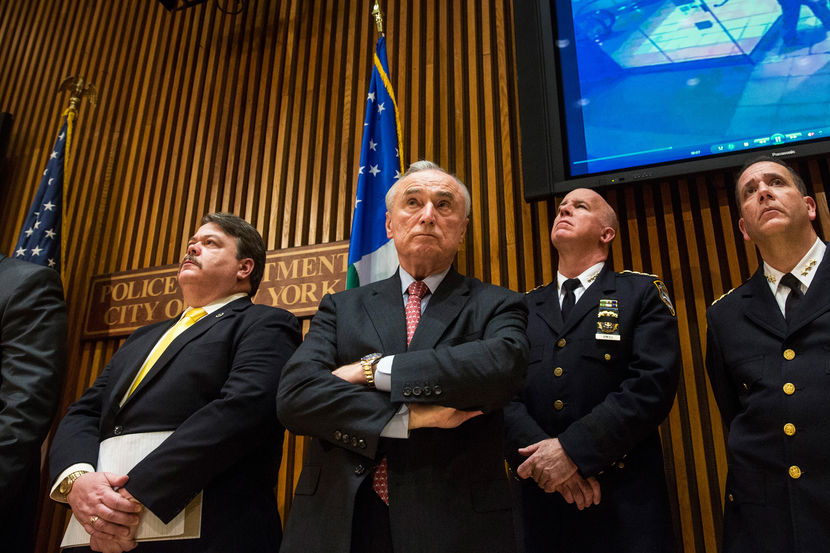 NYPD Turns Back On Mayor De Blasio, Commissioner Bratton Terms Protest As 'Very Inappropriate'
Remembrance Speech Turned Into Protest
The occasion was the one where Mayor of New York City Bill de Blasio was giving a speech to pay homage to thetwo slain patrol cops whowerekilled by a person seeking revenge for the death of two colored men. However, what the mayor did not expect was the PoliceDepartment turning their backs on him as a sign of protest. However, that is exactly what they did.The act was later condemned by NYPD Commissioner Bill Bratton, who said, "I certainly don't support that action yesterday. I think it was very inappropriate at that event," "That funeral was held to honor Officer Ramos, and to bring politics, to bring issues into that event was very inappropriate and I do not support it."
Disputed Labor Contracts BehindShow Of Dissent
According to the Commissioner, the reason for the gesture was not just the current volatile police citizen relationship. Rather,he said that the root cause was the police force's unresolved labor contracts. In fact, 5 unions of thepolice have been called for discussions on running the administrative mechanism smoothly. Former Mayor Rudy Giuliani said that till de Blasio counted Rev. Al Sharpto as an ally, the shaky administrationand police relationship would continue to be as unstable as it was now.
Patrolmen's Benevolent AssociationStrike A Quieter Note
With the ex-mayor under fire, the Patrolmen's Benevolent Association said that they were getting the full support of New Yorkers city wide in lodging their protest. Some officers said that the very idea of trying to take revenge by killing an officer was repulsive. Moreover, the officers killed were from the minoritiesthemselves, with one being Hispania and the other an Asian. Colored officers condemned the attack as well, and said that the protests and subsequent violence werenot doing anybody any good.