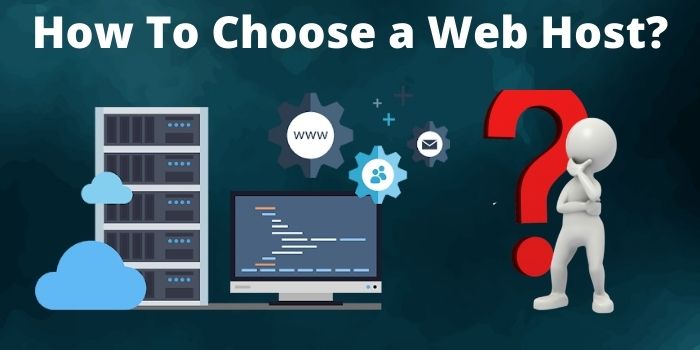 How to Choose a Web Host?
Today every website required web hosting services that provide server space and power the site securely. But preferring the right and best web host can be challenging because you will find millions of web hosting providers in the market. Here in this article, you know about How to choose a Web Host for hosting the website.
There are lots of things we should consider before picking web hosting services. All difference is about the cost and features they offer with their services. The way of judging a good web host is not on price, you must watch your site's technical requirements and the features with some extra services like technical assistance, firewall protection, email services, domain name registration, and more web host offers.
Firstly you should make sure about your website terms and Specific Needs
What type of website are you going to build?
Did you want to create more than one site?
How much traffic did you expert every month on-site?
What technical requirements your website needs?
Most importantly, what is your monthly budget?
What type of web hosting do you need?
Every web host offers different hosting services to choose from. Whether you need hosting for a small business website or a high traffic website. You will find different options to choose from such as Shared, VPS, Dedicated, and WordPress web hosting.
Shared Web Hosting is fitted for small to medium business websites.
VPS Web Hosting act as dedicated service which is suitable for fasted growing website with huge traffic.
Dedicated web hosting is best for high traffic websites and offers peak server resources and security.
WordPress Hosting is known as CMS (Content Management System) great for bloggers, journalists, and other content creators.
What features should you look toward the Right Web Host?
Hosting Server Uptime & Reliability
While hosting a website online you always want your site up and accessible 100% of the time. No one offers 100% uptime but most of the web owner offers 99.9% Uptime Guarantee. So choose a web host who extends 99.9% Uptime with a guarantee not less than that.
Customer or Technical Supports web host offers
Use the service of that web host who regularly ready to help their clients with 24/7/365 days customer support. You can contact through Live Chat, Forum, E-mail, Phone, and more options are offers by the different web host provider. If you need any help or want to ask any question related to hosting service can contact the company support team.
Sometimes there is a chance to lose data with hard disk failure or any other reason so the web host must offer Data Backup Service files to restore your site. The web manager who offers time to time backup service is most desirable.
It helps to survey data and traffic passes through your website on the web. This depends on what type of traffic need or how much data storage on your site. If your site contains limited media files such as images, videos, streaming, etc. then it's enough to choose 10 GB of Storage per month but when your website holds huge files or has 1,000 or more visitors per day then needs 150 GB per month.
Always see the web owner provides an easy-to-use Control Panel with superior performance. It allows you to easily manage various outlook of your website from any location yourself. You will find two types of Control Panel. With Window Hosting, you will get Plesk Control Panel and Linux hosting include cPanel.
Site Socket Layer (SSL) is needed for keeping your sites and user's confidential data such as passwords and Credit card detail safe and protected from hackers. It is a must for the sites that sell products or accept payments online. Some web hosts present a Free SSL Certificate with their plans.
Many web host offers a basic plan at an affordable price but when you upgrade your plan then the price also increases. Some providers offer Low-Cost Web Hosting Discount & Deals for making clients purchases cheap. Must compare plan and pricing and how much you can save on hosting plan before choosing it.
When you are going to host the website you need a domain name. It is the name of your website that people type in the URL browser or you can say in search engine. It's better to choose to buy a domain name with the same company you choose web hosting services. Buy together is great for you because buy separately includes extra steps and time.
It's better to buy a hosting service from a web host who offers at least a 30-day money-back guarantee. Also, you can pick a web host that has a free trial period for their hosting services. So if you are not satisfied with can cancel easily.
For beginners and who do not have much skill in creating a website then you must consider your web host provider's website builder. It helps you in designing a website without facing any problem. It offers you several ways to customize your website for your business with easy drag-and-drop options.
Top 10 Web Hosting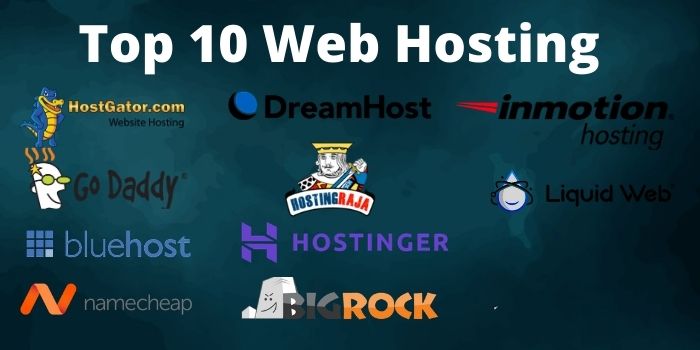 Hostgator
Godaddy
BlueHost
Namecheap
DreamHost
HostingRaja
Hostinger
BigRock
InMotion
LiquidWeb
Conclusion
Selecting the most trustworthy web host can be clear if you examined the features suggested in this article. Once you shop hosting service with the right web host then you can build an amazing website with great success. I have mentioned some top 10 web Shared hosting providers you can prefer from. They supply high-quality web hosting services at the most suited price.