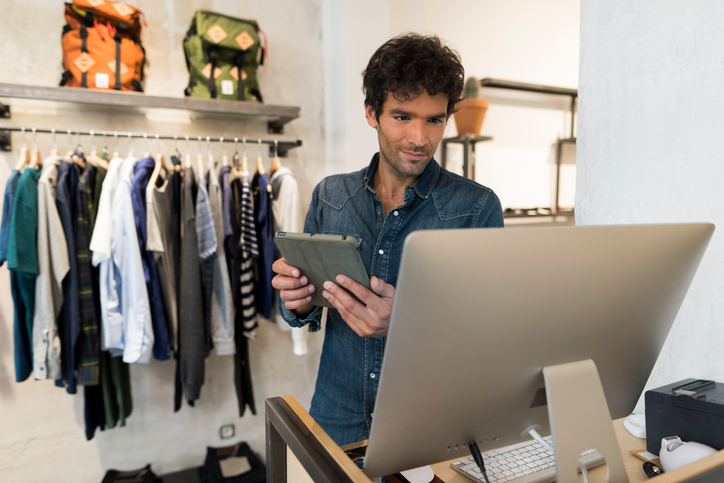 How new technologies are throwing a lifeline to the struggling high street
The high street has suffered something of a retail apocalypse during the past two years, both in the UK and across the pond in the US. In Britain, department store chain BHS collapsed, the biggest high street failure since Woolworths went bust in 2008. In the States, retail giants Macy's and Sears announced hundreds of store closures, while high street stalwarts Urban Outfitters, American Eagle and Lululemon all reported new multi-year lows.
The high street crisis comes as more and more customers take their spending online. However, some companies are focusing on 'future-proofing' their stores with the integration of technology to improve customer experience in-store. Here are a few different trends taking off around the world that are shaping the look of retail stores:
Retailers are embracing the Internet Of Things
70% of retail decision makers are ready to invest in the Internet of Things (IoT) for their stores, according to the Zebra 2017 Retail Vision Study. Furthermore, 65% are planning on investing in automation technologies for inventory management by 2021.
The IoT can be incorporated into retail stores to enhance customer experience, or even by improving the efficiency of stocktakes. For example, RFID inventory management can be implemented in-store, and offers retailers the opportunity to adopt a new approach to stock availability and inventory management. RFID management systems offer accurate inventory counts, allowing retailers to keep an eye on sales as well as marketing efforts.
Smart shelves could be another way for retailers to track inventory. Panasonic is currently working on building a shelf with embedded sensors that would notify the store manager when products are low on stock. This can also be used to track the most popular items in a store, which can be used to decide on any future promotions.
Some stores are also using the internet to offer customers a more personalised shopping experience. For example, cosmetic brand Skinfood created an interactive beauty bar in Seoul's trendy Garosugil neighborhood. The store included touchscreen tablets that allowed customers to scan various items and learn more about the brand's commitment to using nourishing ingredients in their products.
Pop-up stores are being used to generate ephemeral experiences
According to EE's Britain's Pop-Up Retail Economy report, the UK's pop-up industry is estimated to be worth around £2.3 billion. The industry is also said to employ 26,200 people, and a massive 44% of customers polled had visited a pop-up shop in the last 12 months. The exclusive nature of pop-up stores helps to drive sales, with CEO of PopUp Republic Jeremy Baras explaining: "Customers are attracted to exclusivity. They're attracted to a 'here today, gone tomorrow' type of concept."
While pop-ups can be used to increase brand awareness of startup companies, larger enterprises are also cashing in on the idea. J. Crew increased sales by holding a 24-hour pop-up shop in New York, while Adidas held a shoebox-shaped pop-up shop in London to promote the brand's latest Stan Smith collection.
More brands are likely to look towards pop-up shops as a way of attracting customers back to the high street. Retailers who are wary about setting up their own location can even opt to partner with major department stores, in order to have a location to host their store. This store-within-a-store concept has been used around the world, and allows brands to showcase and sell their items without the need for creating their own space.
Staff-less stores could be commonplace in the near future
E-commerce giant Amazon recently launched its own convenience store, which features computer vision, sensors, and deep learning, partnered with user accounts. Amazon Go, which first opened in Seattle, eliminates the need for customers to queue at the checkout. Instead, customers are able to walk straight out the door once they're done shopping. Using extensive cameras and technology throughout the store, Amazon can track items and charges customers straight to their accounts once they've left the shop.
Similarly, Panasonic launched a human-less system that scans and bags items automatically, without the need for a cashier. The stores are powered by an electronic tag, similar to the RFID inventory management system mentioned previously, which can work out to be more accurate than Amazon's camera technique.
While brick-and-mortar stores are struggling to beat online competition, it's clear that customers can be attracted back to the high street with exciting new concepts. Whether this is through ephemeral pop-up stores, personalised retail experiences or innovative technologies, a lifeline is available to high street retailers and, if they want to survive, they're going to need to grab it with both hands.