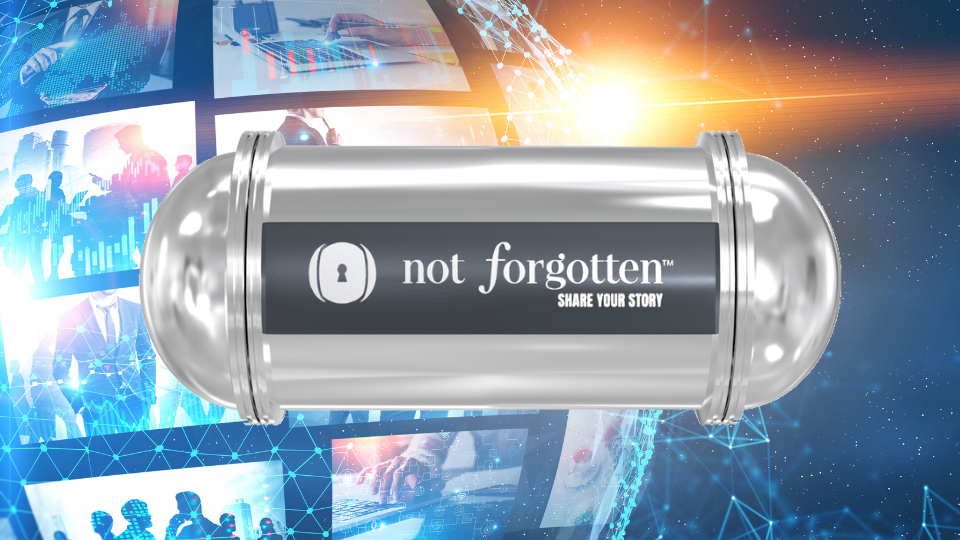 NotForgotten's Digital Time Capsule is a Scrapbook that Will Live for Centuries
Life goes by rapidly. A new decade is dawning, and new experiences are on the horizon. The average human life expectancy is 25,915 days, where 10,625 days are spent looking at a technological device, 1,765 days are spent socializing with loved ones and one can expect to laugh around 481,760 times. Yet, life goes beyond mere numbers because everyone shares a series of unique and personal experiences.
It is the special stories that tie one's life together – the love, heartbreak, pain and joy. People try to immortalize the standout moments like one's prom, high school graduation, birthday and wedding through photographs but recreating the moment is impossible. As the cliché goes, "a picture is worth a thousand words." Moments are fleeting and everyone tries to find a way to preserve their personal story.
Scrapbooking or "memory crafts" are one way that people attempt to record their important days. According to the Hobby and Craft Association, the trade association for the craft industry, scrapbooking is now a $2.5 billion industry that shows no signs of slowing down. Currently, there are now over 3,000 scrapbooking stores nationwide in the United States and 62.5 million crafters. Most scrapbookers not only make a scrapbook about their significant life events but about their loved ones as well. The cost of scrapbooking can add up. A recent survey found that the value of tools and supplies owned by the average scrapbooker was $1,853. Preserving one's legacy shouldn't have to come at a high cost. Consider, NotForgotten's affordable digital time capsule –immortalizing one's life for centuries to come.
NotForgotten enables users to capture stories, significant life events and journal them through an app interface. No need for messy glue, tape or scissors! It's all done quickly, and a video can be easily captured through a smartphone and by using a script of suggested topics, such as the most impactful events in their lives. NotForgotten edits the video, for up to 30 minutes long. Inspirational templates and a stunning video platform ensure every record looks beautiful, professional and personalized. Time capsules can be delivered in a luxury folder with pages including a family tree scrapbook, will bequeath cards, and a 'Notforgotten' certificate.
A scrapbook can be damaged, lost or destroyed but a NotForgotten video is securely stored in two locations: on the cloud and in a physical form, on a tape in a secure, climate-controlled facility and leading data storage company in Tennessee. Time capsules are available in 50, 150, and 300-year storage options, and the technology behind the app is designed for ease-of-use and is regularly updated so users can enjoy a seamless record-creating experience, without any gimmicks or security risks. A NotForgotten Video Time Capsule can be purchased for $69 To $149, depending on how long the video will be preserved.
One user, Heather Gane, a 70-year-old genealogy enthusiast from South Africa and a NotForgotten user says, "After years of working on researching my family history, publishing three books on my family line and creating a memory book for my grandchildren to document their experiences, I found NotForgotten. It's added a whole new dimension to family history research, capturing the essence of self that can't be found in written records."
With NotForgotten's digital time capsule, people can authentically capture their life stories themselves. No need for old altered stories that start with "Your great-grandma used to say…" because now they can know exactly what she would say! Future generations can relive the infamous stories of their ancestors, learn from their wisdom and rejoice in knowing their family history.