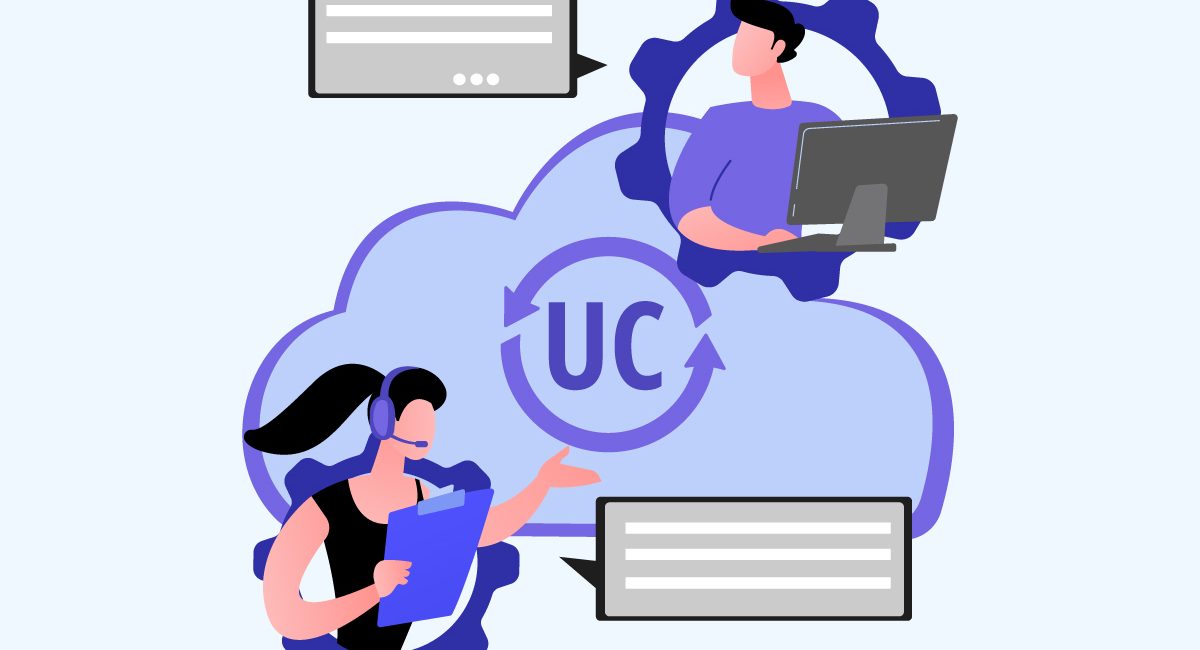 10 benefits of Unified Communication in the workspace
Communication has been an integral part of any business's success. Every aspect of a business ranging from employees to management, requires reliable and efficient communication to carry out their tasks and achieve business goals.
Unified communications have stepped up the game in communication and user experience since you can rely on the services that feature everything you need to communicate, from SMS to web conferences.
It facilitates real-time communication over the internet connection, mobilizing remote workforce, promoting hybrid environment, and more.
Businesses can leverage the UC features and attributes to growing their communication capabilities and overall, the whole company.
This article will discuss the basics of UC [unified communications] and their benefits in the workspace.
What are unified communications?
Unified communications [UC] is an umbrella solution [unified communications solution] that incorporates products, services, equipment, and software to provide several communication channels such as video, audio, voicemail, content sharing, SMS, group chats, instant messaging etc., under a single platform.
It can control these channels, manage, and enable integration with different relevant and compatible softwares.
Basically, it is a complete communication space that lets business leaders communicate with their employees and other businesses, monitor the digital workforce, integrate other communication platforms, and connect with remote workers using a mobile device.
What are the main components of unified communications?
UC integrates many exceptional communication features in a single platform to make communication convenient and reliable. Despite those underlying features, unified communications have three major components.
Voice calling
Messaging
Video conferencing
1.     Voice calling
The initial business phone systems had simple voice calls that allowed parties to communicate using PSTN services. With time, the phone system evolved and moved towards the [cloud] VoIP, eliminating the hard wires and using the internet to communicate.
2.     Messaging
SMS and emails have been among the main mediums of communication between different parties which is still in use. UC uses this aspect with a more modern approach, which allows you to receive and send instant messages from variable places and devices using your credentials.
Messages are the core of team chats for internal teams to exchange messages and foster faster communication.
3.     Video conferencing
Video meeting is the best and most effective way of communication. It creates direct connection and allows parties to conduct business and discuss topics with video and audio assistance as if they are sitting next to each other. It eliminates long-distance travel and creates more time for businesses.
Video meeting [conferencing] are suitable for remote working environment as employees and managers can have a seamless experience with back and forth of data and information.
What are the benefits of unified communication?
Efficient communication between the employer and employees is crucial to the triumph of any business. UC boosts employee participation and productivity in every task to contribute toward the company's success, goals, and values.
It promotes transparency in the work culture, reduces misunderstandings, and fosters mutual understanding among the employer and employees. UC has several benefits to your establishments if chosen and implemented effectively.
Some of the important benefits of unified communications are explained below.
10 Best benefits of unified communications in the workspace are:
Reduce investments
enhancement of existing systems
boosts employee productivity
encourages team collaboration
Mobilize remote workers
Simplify IT Operations
Expand organizational agility
Strengthen IT security
Enhance customer service
enrich efficiency and effectivity with AI
1.     Reduce investments
Reduction in investment is one of the major benefits of UC implementations in a business. Although it is difficult to quantify UC in terms of ROI [Returns on Investment], it helps organizations reduce their investment directly or indirectly.
UC brings many features that facilitate users with various means of communication with the desired number of participants and ease of data sharing and access.
You had to subscribe to all those features from different vendors if it wasn't for a UC, and Subscriptions and timely renewal require extra investment.
UC helps businesses conduct interactive and effective online meetings with HD video calls, instant file sharing, and presentations, eliminating the need for physical meetings between parties.
This process indirectly decreases the cost of traveling and accommodation for physical meetings and conferences.
2.     Enhancement of existing systems
Customers' and business needs expand with time, and traditional communication systems find it difficult to keep up and meet them. Simple phone calls are not the standard of communication these days.
Your business should provide all sorts of communication tools to employees to explore the boundaries to get the most out of it.
Unified communications [UC] is the answer to every business communication needs, and it is flexible and versatile to meet the market fluidity. It upgrades the existing systems or replaces the conventional methods and tools to address communication issues.
Simple phone calls and text messaging from the traditional communication systems are upgraded with the UC features like Virtual Phone Number, video/web conferencing, group chats, calls, instant file sharing, screen sharing, and many more.
It facilitates users [employees] collaboration on various projects using communication tools through multichannel sessions. UC tools enrich communication experiences by enabling employees to work productively regardless of their location, network, OS, and devices.
3.     Boosts employee productivity
UC plays an integral part in boosting office productivity with its communications application features. It allows users to work from any corner of the globe and be as productive as in a corporate office. As in the traditional work culture, employees do not have to be seated where desk phones are.
UC facilitates both on-site and remote workers equally. As UC is a platform-independent and cloud-based solution, employees have the freedom and flexibility to work from the place of their comfort, using any device to deliver excellent results.
Employees can remain effective and productive when they have more flexibility and access to the latest unified communication tools. UC is designed around where the employee [user] is rather than where the office is.
Employees can use various communication mediums
to reach and communicate with their co-workers, clients, and leads, other businesses, or related parties, whatever suits the communication best. Many options mean greater reachability means higher productivity.
4.     Facilitate team collaboration
Team meetings and collaborations are equally important to businesses as employees' productivity. In fact, collaborations are major contributors to employee productivity.
Companies [teams] should be able to host and join meetings instantly according to needs and situations, and unified communications can make it happen.
Unified communications provide users [businesses] with various collaboration applications that facilitate internal and external communications and file sharing among many participants.
Web/video conferencing, group calls, group chats, file sharing, etc., come into the equation when there is a need for employee collaboration on projects or meetings with other parties.
UC enables users [businesses] to collaborate in real-time using the designated collaboration tools over the internet regardless of their locations, used devices, and OS platforms.
It facilitates many participants in group calls, chats, and conferences with the flexibility to add and remove participants on demand. Screen sharing, presentation, and file sharing are huge assets for interactive and productive collaborations.
5.     Mobilize remote workers
The work culture is constantly evolving to meet the employees' needs and correlate with the situations like pandemics. Organizations do not have to worry about the concerns as they can actively involve their employees from any place and time.
UC allows employees to work from home and on-site, which is beneficial to the organizations in situations where physical presence is not recommendable.
UC supports digital workforce and decentralized work culture that is equally effective and productive as on-premise work culture.
Businesses can deploy UC to hire and employ workers throughout the globe to meet their business needs. They can keep track and monitor the employees with the AI-assisted metrics generated by the UC.
Hybrid workers [remote workers] do not have to be seated next to the desk phones, unlike office workers. Instant connection and collaboration between the employees and employers are possible via internet connection.
It is possible to collectively work on projects and grind out better results within the specified time. Remote work culture doesn't mean less productivity and obsolete.
6.     Simplify IT Operations
The deployment and maintenance of UC across the organization fall under IT operations, and IT personnel should handle the UC operations effectively and efficiently to meet the communication demands. This task might seem difficult, but the unified communications greatly address the issues and operational difficulties.
UC deploys algorithms to automate many of its tasks and require fewer human interactions. It incorporates standard security guidelines and algorithms to deny unwanted access to the organizational database and fight against malware threats and data loss.
UC is a huge improvement to the traditional communication systems in terms of services and security. It hugely simplifies the tasks of IT personnel in monitoring and maintaining UC operations and functionality across the business.
7.     Expand organizational agility
Organizational agility is one of the determining factors in competitions. Businesses require agility in management and operations to compete and stand on top.
Communication is an integral part of both management and operations. Agile communications lead to better functionality, transparency, productivity, and overall expansion of organizational agility.
8.     Strengthen IT security
Unified communications come with easy application integration hubs that simplify the task of IT personnel. IT personnel can seamlessly apply the security policies [standards] across the digital workspaces. IT staff can easily incorporate security patches and updates and maintain user compliance without complexities.
Businesses can rely on the UC to automate its security features with a lesser human interaction and shield the system from malware threats and cyber attackers.
In addition to inbuilt security and AI assistance, you have the flexibility to integrate third-party security applications for better safekeeping.
9.     Enhance customer service
UC helps organizations enhance their customer experience in several ways since the applications available in the UC allow various forms of communication. Customers can select from several communication options to meet their personal or business needs.
UC doesn't limit its callers to simple voice calls; rather, it can help you set up external and internal communication with other parties using video, audio, file sharing, screen sharing, presentations, and other options. Customers get technical support in difficult times to fix their problems and go with short downtime.
It allows users freedom and flexibility to conduct their business as they prefer. The UC services are cost saving, reliable and secure to protect customer data and maintain confidentiality.
10.  Enrich efficiency and effectivity with AI
Incorporating AI into unified communications takes everything to the next level. UC did perform well without AIs in its initial phase, but the AI is a game-changer.
The abilities of AI are based on the attributes of Machine Learning [ML] and Natural Language Processing [NLP], which aid UC efficiencies and effectiveness.
AI allows UC to perform the task efficiently and more effectively since the recommendations are completely data-driven and based on factual bases. It helps IT staff maintain security risks and upgrade the UC [system] to prevent potential attacks and dissemination of malware threats.
The automation by AI allows for better workflow and data-keeping since AI enables meeting transcription and meeting-scheduling to enhance the ability of UC. Businesses can rely on these aspects of the UC to be more creative and work on innovative ideas.
Bottom line
Implementing a unified communications tool [UC] in your business will help you broaden your communication capabilities and reach out to the untouched corners by deploying a mobile workforce throughout the globe.
This unified platform will help you grow your entire organization with time and have an advantage over your competitors.