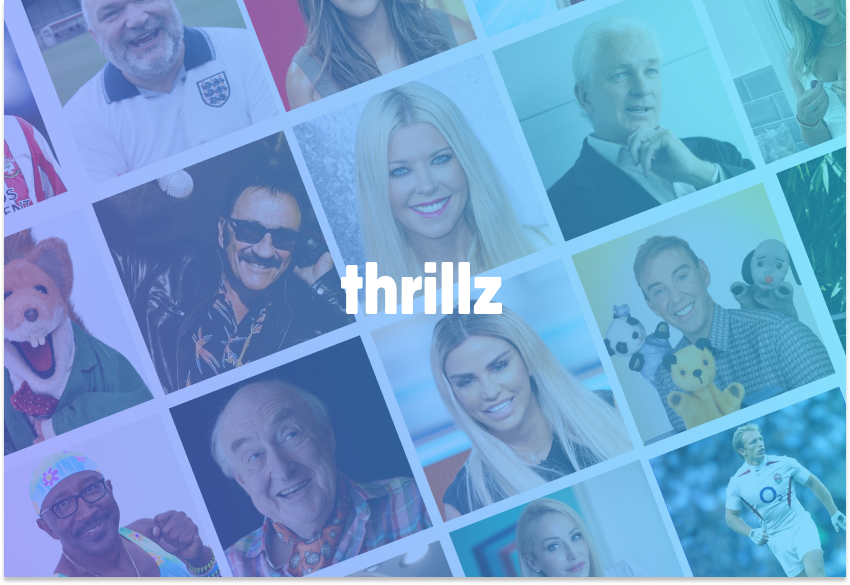 Celebrity and fan favorite Thrillz raises more than Seedrs crowdfunding goal to continue its already successful launch.
Thrillz, the UK's number one app for celebrity and fan interactions, is continuing its success in partnership with Seedrs for their crowdfunding campaign! Keeping us connected is always the mission of Thrillz, but they do it in a very special way – with celebrities to pass on the messages we cannot!
Thrillz's crowdfunding campaign with Seedrs has raised £548,471 over £40,000 over their goal. While Seedrs allows investors to "invest in businesses they believe in and share in their success, [and] enable all types of growth-focused businesses to raise capital and a community in the process". It is not a surprise to see that over 200 investors took part in this incredible campaign with how successful they have already been.
The purpose behind Thrillz roots back to it's founder, Anjan Luthra, a former International sportsman who wanted to get closer to the athletes who inspired him in a way that meet and greets could not have ever satisfied! The authentic connection between celebrities and fans, along with the creative requests, makes Thrillz the perfect app and company to support.
With fan favorites from Netflix like Mary Fitzgerald and Amanza Smith, to childhood favorites like Mr. Motivator and Tara Reid, or your favorite sports stars like Peter Shilton and Matt Le Tissier, the opportunities to connect are endless! But the experiences do not stop at shout outs and personalized messages – fans can get personalized performances from incredibly talented singers like Allie Sherlock, Mya, and Chesney Hawkes!
After being named one of the best U.K. Startups of 2020 by Startup Pill, Thrillz is not slowing down in 2021. Offering one-of-a-kind experiences, Luthra has revolutionized the way fans can interact with celebrities, ushering in a new age of genuine connections and celebrity entertainment. Instead of traveling to meet your favorite celebrities or paying expensive fees, Thrillz makes it easy and stress free to foster connections.
What is most impressive about the campaign with Seedrs is how quickly they reached their goal of £500,000 in a short 35 days! Thrillz effortlessly surpassed their campaign target with a pre-money valuation of around £10 million. Gareme Faulds, a founding partner of SL Capital Partners, one of the largest and most successful private equity funds in the UK, joined alongside Luthra as advisor for Thrillz.
In the pre-seed round of the campaign, Thrillz raised $700,000 from leading angel investors across Europe, including executives from leading PE and investment bank firms including advisor James Faulds who currently advises Tier 1 Private Equity Funds. Since the launch of Thrillz, the platform has grown tremendously and has since gained traction with 75% of sales being organic and a monthly revenue growth of 175%. In 2020 alone, Thrillz celebrity sign-ups grew by 1000% while bookings were up 2700% and revenue climbed 5000%.
With big dreams, hundreds of five-star reviews from extremely satisfied customers, and no limits to what celebrities will do for their dedicated fans, Thrillz continues to be a success into 2021. From custom videos, live events, and Thrillz Business, there is no saying where this incredible business will go! Learn more about Thrillz at https://www.thrillz.co.uk/.