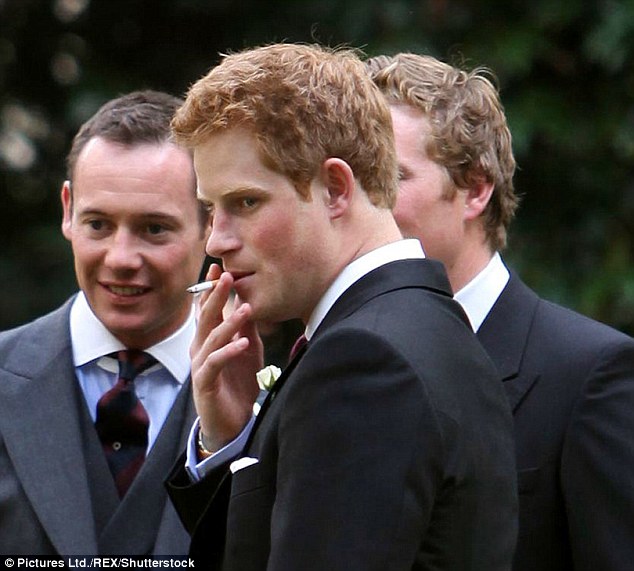 What will Prince Harry do? Prince is banned from smoking in his own home
Senior British royals are well known for disliking smoking, so it is perhaps unsurprising that Buckingham Palace has now banned smoking from royal residences, including Kensington Palace, where Prince Harry lives.
While the Queen and Prince Charles have both tried to persuade him to quit, Prince Harry is understood to have started smoking when he was just 15 and a pupil at prestigious public school Eton. He is still said to light up 20 Marlboro lights every day and was pictured enjoying a ciggie outside a pub in Chelsea when he turned 32.
However, he hasn't been spotted smoking in public for a while and his new love, the actress Meghan Markle has never smoked, so it may be that he is already looking to quit the habit.
Smoking is, in any case, set to get more difficult for the prince and other members of the royal household. Buckingham Palace is introducing a strict no smoking policy at all royal residences, including Kensington Palace, where Prince Harry has his residence, as do the Duke and Duchess of Cambridge.
Smoking areas
Previously, the palace allowed smoking in certain areas. A smoking area was set up near to the entrance to the delivery area for Buckingham Palace. However, after discussions with staff and officials, it has been decided to ban smoking completely.
To help staff to quit, the smoking of e-cigarettes will be allowed for another half a year. Then, from May 22, no cigarettes or e-cigarettes will be allowed in Buckingham Palace, Windsor Castle, St James's Palace, Kensington Palace and the Palace of Holyroodhouse.
Prince Charles had already banned the habit in Clarence House, where he lives, because he is known to loathe smoking. His wife, the Duchess of Cornwall did smoke, having to go outside at the request of Prince Charles, but has now managed to quit.