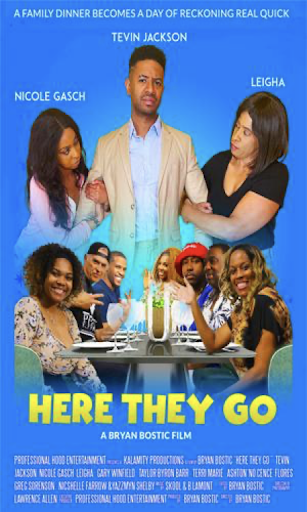 Movie Review: The Movie 'Here They Go' (2022) by Bryan Bostic
Hey, what's your plan for the weekend?? Ask me!!! I feel, there is no better way to spend a weekend than watching a hilarious comedy movie. And, Bryan Bostic's 'Here They Go' is my recommendation for this weekend.
'Here They Go' (2022) is a cool black comedy film, written and directed by Bryan Bostic. The film's story revolves around Tommy Peterson, who brings his girlfriend to meet his crazy family and overprotective Mom.
The film's top cast includes Tevin Jackson as Tommy Peterson (the son), Leigha as Helen Peterson (the mother), and Nicole Gasch as Olivia Jameson (the girlfriend). I loved Tevin Jackson's role as a loving boyfriend, which is opposite to his role as 'Dustin' in 'Chronicles of a Side Dude,' (2016), who lived his life going from one girl to another. But, my favorite is Helen Peterson, who is ready to do anything to protect her son from girls. 
In 'Here They Go,' Tommy is anxious that his overprotective mother won't like the age difference between him and his girlfriend and he's hoping for a long-lasting relationship with Olivia Jameson. 
Comedy movies are good to relieve stress and anxiousness, and make you feel good. And, 'Here They Go' is sure to do all these for you. While watching this movie, you will feel yourself on a fun ride. From the first scene of the movie, where Helen Peterson (played by Leigha) promises to her teenage son 'Tommy' that she wouldn't let any girl break Tommy's heart (And she meant it!!!!) till the last scene of the movie doesn't expect anything serious, you would be in for a fun ride. It's a movie that lasts for less than two hours but its hilarious comedy will make you laugh for a long time. 
I fairly enjoyed the writer and director, Bryan Bostic's writing and film-making skills. 'Here They Go' is fun to watch and is certainly a great addition to Bryan Bostic's movies. All the stars got a pretty well amount of time on the screen. And all of them look good in their roles and show great acting- skills in front of the camera.
What I also love about this film is the family matter. This film has some pretty crazy family jokes, much funnier than a lot of other comedies released this year that include some predictable and clichéd jokes. It's jokes are crazy enough to make you forget about all the problems in life.
The story involves a typical overprotective and funny mother-in-law but you would agree with me there are some good actors and hilarious jokes in 'Here They Go.' Bryan Bostic, who is already known for movies like Watch Your Six (2020) and Pussie Control: The Story of Davion Pussie (2021), 'Here They Go' (2022) is a great addition to his list of interesting movies. You would enjoy its wickedly funny jokes and great acting from every actor involved. I think everyone, who enjoys good family comedies must watch 'Here They Go.'