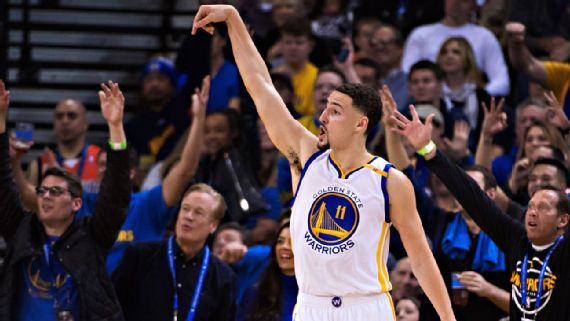 Indiana Pacers – Klay Thompson Sinks 60 In A Single Game
The Indiana Pacers were destroyed by the Golden State Warriors 106-142 as Klay Thompson seized a career-high 60 points in his three quarters of play. It was more of a mental exercise for the Warriors as Thompson extended all his boundaries that resulted in something extremely special.
Every star has his hot streaks, but Thompson has made a habit of making one record after another. The sheer talent of Klay's co-player Curry has reached a point of being routine excellence, but Thompson still has the claim of 37 points in a single quarter.
He still has the claim of 41 points and 11 3-pointers in a very crucial 6th game. Although Thompson's cold snaps can be frigid, his hot streaks can summon the surreal.
When Klay Thompson is on, it's as though the shots fly before the thoughts. Although he might be playing within his subconscious, his teammates were all on their toes. It's a different experience than Curry or Kevin Durant in a flow, mostly because it's so participatory.
Curry and Durant make their own plays, but Klay must get open and be fed. Screens are set with zeal, as teammates eagerly look for No. 11. The communal joy extended to the bench as well, where Thompson's 40-point half had Curry bounding about with deranged glee.
Think it started for me when I got a few lay-ups in the beginning, it helped me push higher and harder, said Thompson. He began his magic with an array of 2-point baskets — a reminder of why the Warriors opted for Thompson over many other brilliant players as their future 2-guard.
Then Thompson found pay dirt racing behind an Indiana defense that looked every bit like the Pacers were feeling fatigue on the back-to-back.