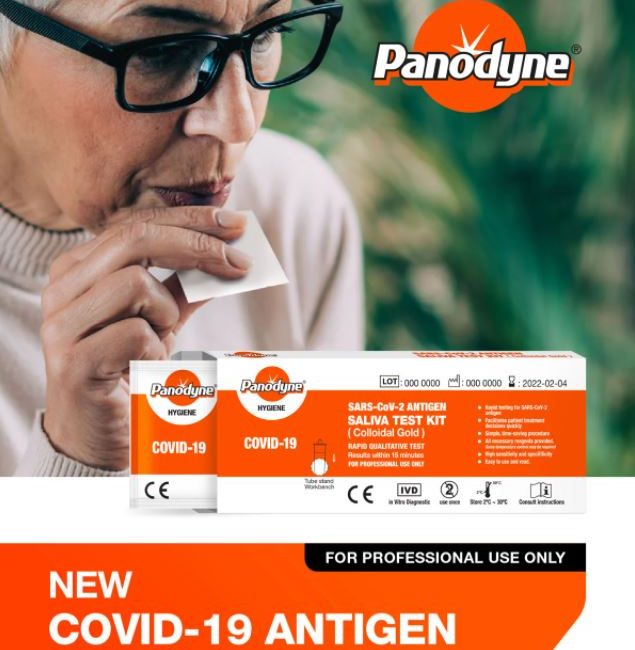 NEW! Introducing the non-invasive Panodyne Covid-19 Saliva Test Kit from Multibrands
Multibrands is proud to introduce the 
Panodyne COVID-19 Antigen Saliva Test Kit
for the early detection of SARS-Cov-2 virus in various settings. User-friendly and non-invasive, the saliva specimen collection method is more comfortable to use for vulnerable people and those with mental or physical impairment. It minimises discomfort as all you have to do is spit into a sample collection pouch, which is far more comfortable and easier to use for vulnerable people or those with a disability.
 As it's quick and easy to use, the Saliva test kit is also suitable for care homes and nursing homes wishing to carry out a rapid Covid-19 testing on family members visiting their loved ones. The main benefit of the Covid-19 Antigen Saliva Test is that it can easily be self-administered under the supervision of trained staff, healthcare professional, company nurse or occupational health personnel.
 Private businesses who are operating during lockdown and beyond can also use it to screen its workforce, as the vaccine roll-out to the rest of the population is still a long way away. As with the Antigen test kit, applications include regular onsite testing for staff and students at schools, colleges and universities for instance, or for private businesses and supermarkets, transport & logistics, construction sites, manufacturing & engineering, as well as all non-essential NHS staff.
 All Multibrands Covid-19 test kits are CE certified and approved for use by healthcare professionals and trained staff, company nurse and occupational health personnel.
 Please note, whilst saliva tests are useful to use as a regular screening tool, they may not be as reliable as swab tests, so for more accurate results, we recommend antigen swab test kits to follow-up on positive results.
View our comprehensive range of Covid-19 test kits here.
You can also watch the video for our Covid-19 Antigen Test Kit on: https://youtu.be/WYnawHeOz2w
Keeping track of testing outcomes

Panodyne have partnered up with BNR Global Supply Group Ltd, who have developed a secure IT platform and dedicated business solution for keeping track of testing outcomes and keeping your workplace Covid secure.
With a simple set up, users will be able to access a secure portal (accessible via computer or mobile phone) to register to this service and upload test results. Just simply activate the link and register your details, and users will be able to log in every time they need to report a test outcome.
Management will be given access to a platform in order to monitor and analyse data and review reports. Reports can include:
·        Positive/ Negative rate ratios by day, week or month
·        Exposure mapping to react promptly to outbreaks
·        Missed test reports
Full training will be provided to enable users to correctly carry out testing as well as user training for the reporting platform.
All data stored is done in compliance with Data Protection, GDPR and Confidentiality policies. See website for details:
Notes to editors
For more information, please contact: