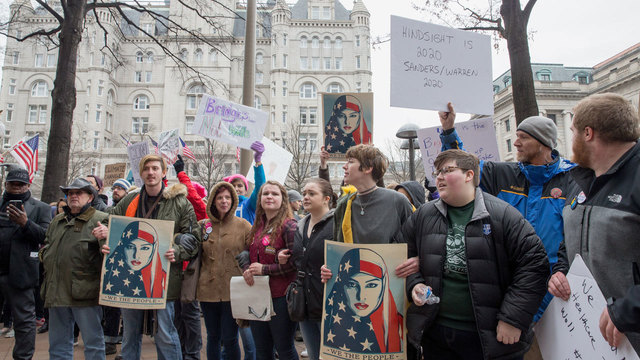 Protestors and supporters meet for the 2017 Inauguration Day
Donald Trump's incendiary talk has maddened and insulted a great many others, making the 70-year-old New Yorker the most disagreeable approaching president in no less than four decades. Friday, the stark national separation was at that point on full show as Trump supporters and depreciators started meeting on the National Mall, around the White House and all through downtown D.C.
After right around two hours of postponements, the security doors at seventh and Independence Avenue opened to cheers from the fretful group. "Trump! Trump! Trump!" various them started to yell. Respecting the Capitol expanding on their approach to introduction, two educators from Gainesville, Fla., were decked out in brilliant red coats, fluffy red ear protectors and catches with Trump's face. One of them, Donna Lutz, said she'd lost companions over her support for Trump.
"For the first time in my life, I have not been able to have an opinion. I was very passionate, so now I get to see that my passions were shared", said Lutz. Be that as it may, her emotions surely weren't shared by everybody. At the tenth and E boulevards in downtown Washington, dissidents obstructed the passage to a checkpoint. A gathering of ladies entwined themselves with purple yarn and sat on the ground to keep individuals from going through.
"Hey, hey, ho, ho! Donald Trump has to go! End white supremacy", said approximately 100 of mostly youthful protestors. Equipped with signs, metal instruments and life-measure wooden crosses, the gathering moved, blew shrieks and sang calmly alongside a little walking band.
The challenge proceeded until an expansive gathering of initiation participants, many wearing suits and dress garments, attempted to push through the human blockade. Individuals beginning tumbling to the ground and swearing until cops made a path for the participants to go through.