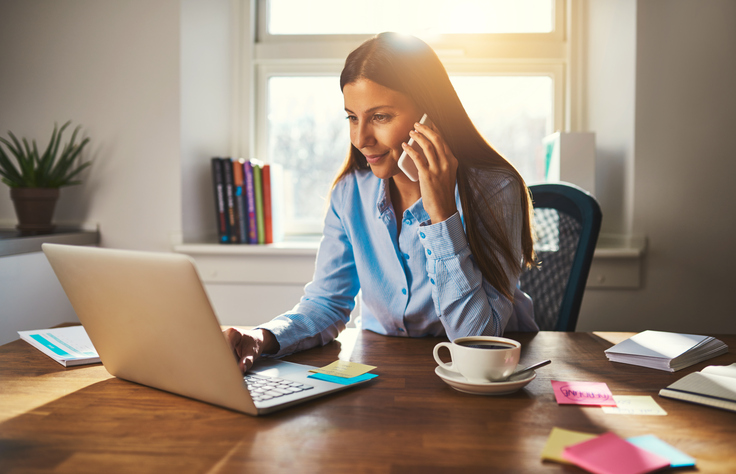 Lessons from the experts: How to build a business empire from home
Building a business empire from home can seem daunting, but every company has to start somewhere, and it makes economic sense for that somewhere to be your home office. Some of the most successful global businesses of all time actually started out as home businesses. Here's some lessons we can take away from their journeys from living room to living the dream.
Your home office doesn't need to be in your house 
Aside from being some of the highest valued businesses in the world, what do Google, Apple, Hewlett Packard, and Disney have in common? All three of them were launched from garages. Steve Jobs and Steve Wozniak built their first computer prototype in 1976 in a garage in Los Altos, California. That garage was recently designated a historical site. So was the Palo Alto garage where HP was founded.
Larry Page and Sergey Brin didn't even own the garage they started Google in; the Menlo Park garage was owned by Susan Wojcicki, who went on to become CEO of YouTube. Similarly, the Disney brothers started their animation business in their uncle's garage. 
Considering the huge success of many former home businesses, there is no need to feel ashamed of your company's humble base. But on some occasions you may need to do business and make deals with investors or clients who do not feel the same way.
At times like this you should do everything you can to give the impression that your business is just as professional as any other. One way to do this is to use a virtual office address. This way, any mail correspondance can be sent to this address, giving the impression that you work in a fancy office. Some virtual addresses also allow businesses to have meetings on the premises, furthering the professional appearance.
With the option of using a virtual office, there really is no reason you can't set up shop anywhere in your home, even in the garage.
Make your hobby your business 
Many entrepreneurs come up with a business idea first and then make the decision to operate out of their home. For some of them, though, it happens even more naturally. Yankee Candle is the number one candle brand in the world. Yankee is so successful it has a 50% market share in the premium candle segment.
The company's founder Michael Kittredge didn't have his eyes on global domination when he made his first candles in 1969; he made them when he was 16 years old as gifts for his mother. When the family's neighbours started asking where they could buy the candles, Kittredge realised he had a business idea on his hands, and he set up the company with the help of his school friends. If there is something you do at home that has business potential, perhaps you should turn it into a business too.
Don't move out until you can really expand 
In Google's autobiographical 'Our Story' page, they reveal they hired engineers, salespeople and a company dog before they moved out of Susan Wojcicki's garage and into their permanent base—the Googleplex.
Other sources indicate that Google first moved into a small startup-friendly office space at 165 University Avenue before they moved into their current headquarters. Whatever the case, Google was a home business for at least a year in its early days, and the company only moved out when they had secured significant investment from financial backers like Andy Bechtolsheim and Ram Shriram (who, incidentally, runs his business Sherpalo from home). Before they had this money, there was no reason for Google to leave the garage.
Over in the world of fashion, bag-makers the Cambridge Satchel Company were based in founder Julie Deane's kitchen for years. The brand had orders from Urban Outfitters, a prominent window display in Bloomingdales on 5th Avenue and press coverage from Elle, Vogue and The Guardian before the first Cambridge Satchel Company factory was opened.
Google and the Cambridge Satchel Company eventually collaborated when Google picked Deane's homegrown, internet-based business for it's 'The Web Is What You Make of It' advertising campaign.
These stories of eventual expansion show that no business should feel pressured to leave the home office before it is ready. Wait until you are sure you can take a meaningful step in the right direction before you step out of your front door.