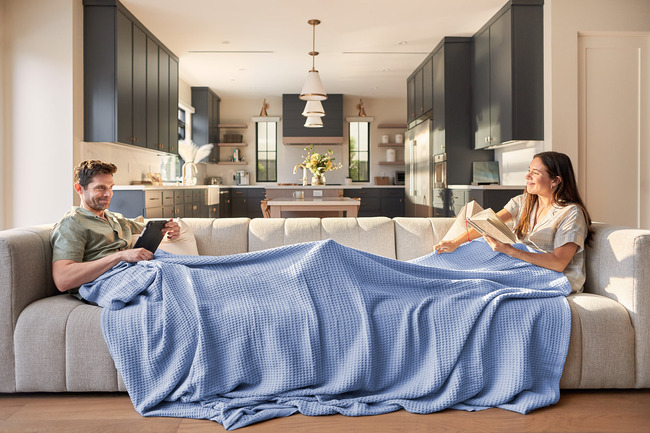 Five bedding gifts for the wedding list from Bedsure Home
Research has shown summer and autumn to be the most popular time of the year in the UK for weddings.
And with restrictions lifting, brides and grooms across the country can finally look forward to the big party they had planned all along.
The wedding list remains a brilliant way for the happy couple to let their guests know what they would really like to receive on their big day.
Bedding products are always popular as newlyweds have often just moved in or are about to set up their first home together.
But where to start? Bedsure has some inspiration with five wedding gift ideas that are suitable for nuptials.
Satin Pillowcases 
Satin remains a surefire way to add a little comfort to a bed, and the Bedsure Satin Pillowcase Set has been voted 'Amazon's Choice' for 'satin pillowcase' while amassing over 22,000 ratings globally. The two-piece set features polyester satin with an envelope closure to stop the pillow from sliding out. Available in a range of 13 colours, Bedsure Satin Pillowcases can match with virtually any bedroom décor. 
100% Cotton Waffle Weave Blanket 
This lightweight and simply gorgeous blanket is perfect whether you're relaxing on the sofa, out for a summer picnic or seeking a bit of extra warmth in bed. Bedsure's 100% Cotton Waffle Weave Blanket features a wrinkle-resistant and classic-looking waffle weave, and is available in blue, grey and dark grey. Just the job for summer, this super-soft Bedsure Blanket easily keeps its shape and does not need to be ironed. 
Marble Pattern Microfiber Bedding Set
For couples who prefer something a bit more luxurious, Bedsure Home's Marble Pattern Bedding Set is a delightful option. Available in grey, black or white, this duvet cover pattern has the feel of a classic mansion or luxury hotel, with the 100% brushed microfibre fabric a wonderful source of smooth comfort. 
Memory Foam Mattress Topper 
For newlyweds who suffer from back or spine problems when sleeping, the Bedsure Home Memory Foam Mattress Topper would be a most welcome gift on the wedding list. Featuring 7cm of head, neck, back and leg support, the topper comes with a non-slip bottom and a washable, zipped cover. Bedsure's Memory Foam Mattress Topper has achieved 'Amazon's Choice' for 'double bed memory foam topper.'
Tree Branch Motif Bed Sheet
Sheets remain a hugely popular gift for couples, and the beautiful Bedsure Home Tree Branch Motif Bed Sheet is made from soft, brushed microfibre and is completely wrinkle-resistant. With deep pockets, this fitted sheet is guaranteed to stay firmly in place even for couples who tend to move around while asleep. 
Bedsure Home offers over 50 Amazon-bestselling home products in eight countries, including the UK, US and Canada, featuring in the likes of Country Living, Forbes, House Beautiful, CNN, Huffpost UK and Woman & Home. While growing into a global company with products that meet diverse customer needs, its focus remains on comfortable home products and everyday value.