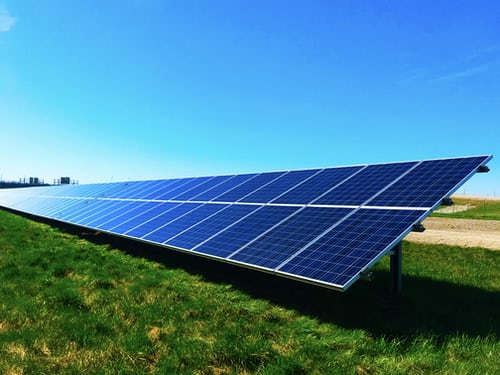 Conrad Energy strikes partnership with GE Renewable Energy for battery storage system supply
The two energy titans have teamed up to design, manufacture and supply battery storage systems that support the UK's move towards a green economy 
Conrad Energy has struck a significant partnership with GE Renewable Energy for 104MWh battery energy storage systems, bolstering the supply of green power sources in the UK. 
The agreement involves the design, manufacture, and supply of battery storage – with Conrad Energy selecting GE to help build out their 500MW battery pipeline. 
Project sites will be home to an array of fully-modular 7-30MWh Reservoir Storage Units suited to both AC and DC coupled architectures. These flexible and compact products combine GE's advanced tech and expertise in plant controls, power electronics and battery management systems.
All sites are projected to be operational by the end of 2022, with deliveries launching from summer next year. 
Both companies have said the agreement will play a role in helping the UK move towards a greener future and low carbon economy. 
Steven Hardman, Conrad Energy's Managing Director, reiterated that battery storage systems would not only help to store energy but also provide grid stability products such as frequency support; contributing to energy security. 
Hardman stated: "We are delighted to be working with GE whose approach provides flexibility to operate in different markets while, importantly, also having the ability to add more hours of storage in the future as the market matures. 
"We are convinced that battery storage has a fundamental role to play in the UK's transition to net zero and are excited to continue the build out of our portfolio."
Duane Longthorn, Conrad Energy's Head of Procurement, added: "GE's experience and expertise in Power System integration and development is well recognised.
"We are looking forward to working with the team to utilise our relationship in building out these projects in 2022."  
Prakash Chandra, Renewable Hybrids CEO at GE Renewable Energy, said that battery energy storage represents a "key part of the energy transition" as the energy landscape undergoes an "unprecedented shift".  
Gianpaolo Giuliani, GE's Energy Storage Sales Director added: "This project with Conrad Energy is a further demonstration of the technology and innovation in GE's Energy Storage systems with the design allowing for flexibility and optimal performance to meet demanding requirements from customers."   
About Conrad Energy 
Conrad Energy is the UK's largest flexible power producer with over 600MW of generation across 45 plants. 
A full-service Independent Power Producer (IPP), Conrad Energy delivers power to the National Grid and commercial customers alike, with a
generation portfolio powering the equivalent of over a million homes. 
The company seeks to reduce energy costs by implementing improved energy efficiency measures, optimising existing infrastructure and installing a range of technologies.
Learn more online: https://conradenergy.co.uk/
About GE Renewable Energy 
GE Renewable Energy harnesses the earth's most abundant resources – the strength of the wind, the heat of the sun and the force of water – to power economies and communities. 
The company has installed more than 400+ gigawatts of clean renewable energy and equipped more than 90 percent of utilities worldwide with its grid solutions – combining onshore and offshore wind, blades, hydro, storage and solar. 
Thanks to GE Renewable Energy, 400 GW of renewable energy is installed worldwide, with 49,000 wind turbines created globally. 
Learn more online: https://www.ge.com/renewableenergy/