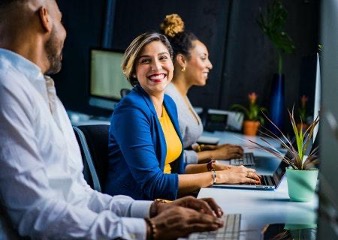 Ways to Improve Business Efficiency While Reducing Operating Costs
The challenge remains for managers to improve the efficiency of their business while simultaneously reducing operating costs.
This task might seem far-fetched, but in reality, cutting costs can lead to more productive business operations.
Solving efficiency problems requires a systematic change, but once you embrace it, your operations will flourish.
In this blog post, we're going to give you the top 4 tips to cut costs and improve efficiency at the same time.
Update inefficient policies and processes
If you want to save money and get more out of your operations, the first thing you need to do is update all the inefficient policies and processes of your business.
It's common that business policies and processes become outdated.
When you identify inefficient policies and processes, you see pain-points in your operations that limit your output and the return you get in terms of efficiency and income.
You can drastically improve that if you review your current processes and see how they can be reduced or reorganized.
For example, instead of using multiple departments to manage your inventory, do maintenance and approve new orders, you can leverage software solutions to cover all these tasks using an app.
That way, you spend less money on your processes and reduce any delays.
When you eliminate inefficiencies and outdated policies from your operations, you get the most out while reducing operating costs at the same time.
Change your supplier
Finding an alternative supplier might be just the thing you need to improve your productivity and slash the costs.
If you are dissatisfied with the quality of your supplier's product or their prices, consider finding another supplier for your business.
When you periodically ask other suppliers for offers, you have a clear understanding of whether you're overpaying or sourcing the most cost-effective option.
Although changing a supplier has its risks, it's a proven way of reducing your operating costs with the potential to increase efficiency.
If you're using multiple suppliers for different types of stock, check if you can get the same items from a single supplier.
That will often result in better pricing for the items, eliminate the number of transactions and accounting costs, and reduce administrative costs.
These can greatly contribute to overall cost reduction.
Every once in a while, reevaluate your supplier, find alternatives and find the most cost-effective option for you. You shouldn't be afraid to review even your oldest suppliers.
Use solutions for asset tracking and management
You can't improve your efficiency and cut operating costs without asset tracking in place.
Having a tracking solution and asset management will directly affect your operating costs, in terms of achieving savings and reducing misplacement, damage or theft.
The efficiency of your entire operations depends on the state of your assets and whether your employees have access to the tools they need to complete a job.
An inventory management system keeps you from being overstocked or making unnecessary orders.
For example, imagine having a warehouse for your gear and inventory.
If you don't know the complete state of your possessions, you risk your gear being misplaced, underutilized, or stolen.
It will take more time for your employees to find the gear they need, and you could also end up buying the gear you already have lying around somewhere.
Using new tracking solutions seems hard at first, but when you know what to look for in tool tracking software, you can make the best choice for boosting the efficiency of your business.
Optimize employee scheduling
One of many factors that contribute to both the efficiency of your business and operating costs is employee scheduling.
Employee scheduling optimization can have a profound impact on your business. It minimizes employee burnout and improves their overall performance.
If you create a structured scheduling system, your employees will be more productive and you can pave the way for flexible scheduling that is beneficial for your business.
Similarly, ineffective scheduling can be quite expensive for businesses, in terms of the time it takes for management to schedule shifts for every worker, in costs of scheduling mistakes, and missed opportunities of flexible scheduling.
A study by the Michigan State University Family Research Center found that optimized scheduling increased productivity and the quality of work. 87% of employees and 70% of managers reported positive effects on productivity.
In order to eliminate the risks of mistakes and move towards a more efficient work environment, optimize your employee scheduling.
Let's conclude
Back in the old days, businesses used to trouble implementing far-reaching, systematic changes. Thankfully, that's no longer the case.
Using these 4 tips will dramatically reduce your monthly spending on operations and increase your business' ROI.
As you optimize each area, you'll see the changes reflected in employee satisfaction, an increase in output, and reduced costs.