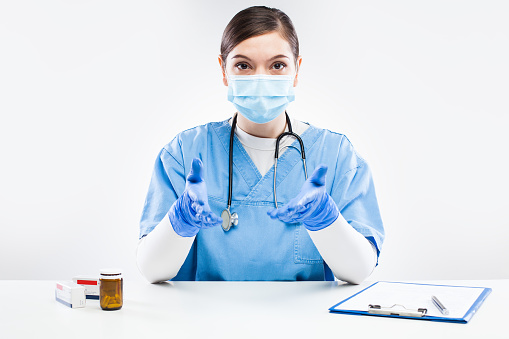 The Ultimate Guide to Completing an Online Nursing Degree
Nursing is an incredibly demanding job that hasn't been made any easier with the coronavirus pandemic. Add in the shortage and the fact that around one million more RNs are set to retire at the end of the decade, and the problem only compounds. That being said, nursing is an incredibly versatile, innovative career that you can customize and really transform into something that you love.
In order to reach a state where you can customize that career path, however, you need years upon years of dedicated education. Choosing the right nursing college, the right degree and the right path can be complex and daunting, but with this ultimate guide, you will be able to confidently progress through the education requirements and find the perfect nursing position for you.
The Nursing Degrees and Your Options
Nursing is a highly customizable career, but before you can make any real movements forward, you will need formal training. The biggest steps forward will require a degree or a post-master's certificate. Each option takes years to complete when tackling these education requirements part-time, but with the right dedication and balance, you can easily progress through each stage and reach your next goal.
You have several options to become a registered nurse, and even more when it comes to what specialization you want to focus on with an MSN or doctorate degree. When choosing the degree or program in question, however, one thing remains the same – it must be accredited. Accreditation in nursing is paramount since only recognized degrees and programs will be accepted when taking the state licensing exam.
There are many different paths and specializations, and you can learn more by exploring the great online nursing programs at Marymount University. With a variety of options, from accelerated degrees to post-master's certificates, you can gain a better understanding of the degree options and what they entail.
Becoming a Registered Nurse
Though there are many nursing roles underneath the registered nurse, many consider this the first official "nurse" position. RNs make up the bulk of healthcare, and BSN-prepared nurses drastically increase the quality of care and even help reduce the fatality rates of hospitals.
There are many ways to become an RN, even though today you will ultimately want and need to earn a BSN. With more than one way to tackle that BSN, however, you can customize your approach to best suit your needs and situation. Making nursing your second career? There are ways to fast-track your efforts. Have the time and means to tackle a BSN full-time? You can do that as well.
There are many ways to become an RN because there are three main types of degree paths for you to earn your BSN.
ADN to BSN
Although this is not the preferred option, and in fact is a path that is becoming increasingly rarer as time goes on, you could first earn the associate's degree in nursing (ADN) and then study for the bachelor of science in nursing (BSN) later on.
The reason is simple. The associate's degree only takes around two years to complete, after which you would qualify to work as a registered nurse. In order to keep that role and to progress further, however, you would need to earn the BSN. There are options that allow you to accelerate the BSN if you have an ADN background. You should aim to get started as soon as possible.
Accelerated BSN
The accelerated BSN is a great option for those who already have a non-nursing degree. There are credits that you can transfer over, even if you don't currently have a STEM-related degree. Of course, if you do have a science-related degree, particularly in biology or chemistry, then you will find you can fast-track through that BSN a lot faster.
If there are missing credits, don't worry; just get in touch with the admissions team to learn how you can either incorporate those missing credits into your degree or earn them through other means.
The Standard BSN
If you don't currently have a degree of any kind, then you will need to earn a full BSN. You do, of course, still have options. You can tackle your BSN full-time and on-campus, full-time online, or part-time online. The goal is to suit your current situation and means. If you have the means to take time off and commit to a degree full-time, go for it. If you need to work, opt for a part-time online option designed for second-career professionals.
This second option is ideal even if you currently don't have a job but need one soon and while you are studying.
Advice If You Need Work First
Many need the stability and legal protections that being employed offers them. If this is you, and you currently are not employed or are about to be, then know there are many great roles within healthcare that only take a few weeks of training to get you started. By getting a job within healthcare, you can learn more about what you want, become familiar with the sector, and also get started helping patients, even if it is in a holistic or supportive way.
Being an assistant or aide can often be very flexible as well, which is great when it comes to managing an online degree while you work. Immersing yourself in the sector will look great on your course application as well and make it more likely for you to be accepted into the program sooner.
The skills you will learn to help you juggle both studying and working during this time can also play a big role in improving your efforts down the line when you go for your MSN or your doctorate.
Becoming an Advanced Practice Registered Nurse
The next phase of nursing, the advanced practice registered nurse (APRN), requires, at minimum, an MSN. Technically it is the highest nursing position you can earn, though there are leadership and other roles that can take your career even further.
The Types of APRN
There are many, many specializations, and those specializations only increase as time goes on and more options are made available to advance practice registered nurses. When it comes to type, however, there are four main options. You can become a nurse practitioner (NP), which is the primary type of APRN and are the ones who work first-hand with patients in a variety of settings. You can work as a clinical nurse specialist (CNS) who focuses more on the science side of care and works to improve quality standards in their field. There are also certified nurse midwives and also certified nurse anesthetists.
NPs work with patients, CNSs work more in research and in medicine. Midwives today bring the quality care of midwives from the past with scientific procedure and research today. Anesthetists provide general and local anesthesia in a variety of settings.
NPs and CNSs have many sub-specializations that you will need to pick from. One of the most popular types of NP role, for example, is that of the family nurse practitioner, though you can also work in geriatrics, mental health, and so on.
Your MSN Options
You'll find that most MSN options available prepare you for the specialization in question. Because of this, it is better that you take the time to be sure of the role you want to work towards. While you can go back and train in a new role later on, that will be an extra cost and extra time.
You can also tackle a BSN to doctorate of nursing practice (DNP) degree and earn your MSN along the way, which will streamline your efforts and ensure you stay in the zone and keep at it until you have completed all of your education goals.
Post-Master's Certification
A post-master's certification allows you to take the credits that prepare you for a certain role within nursing. You don't have to take the general courses that are uniform across every MSN, and therefore it takes less time and less cost than your full MSN.
Becoming a Doctorate-Holding Registered Nurse
Though earning a doctorate won't put you in a rank above APRN, as there isn't one, it can help prepare you for leadership roles. You will need to describe yourself as a doctorate-prepared nurse to avoid confusion between those with an MD, your title will be Dr, and you will have a lot more options and opportunities available to you.
Why Earn a Doctorate?
Doctorates cover a variety of degree types. You could earn a DNP, you could earn an education doctorate (EdD), or you could earn a doctor of philosophy (PhD). All of these will provide you with a doctorate degree, and each will help you advance your career in a specific way. A DNP helps those aiming to work in leadership positions and can also be a great investment for those hoping to open their own practice. The EdD is available for those who want to start training the next generation of nurses. A PhD will help you transition your career into research.
Your Doctorate Options
While in most cases you will earn your doctorate separate from your MSN, there are a few integrated degree options available that will help you cut right to the chase. If your goal is to earn your DNP as soon as possible, for instance, you can apply for a BSN to DNP degree that will allow you to streamline your efforts rather than stop and start.
Building a Routine to Help You Successfully Complete Your Online Nursing Degree
Regardless of which phase of education you are currently in, the right routine will always help you better juggle work and education. You will want to tweak and adapt your approach every time you jump back in, as your needs, career, and circumstances will likely have changed.
It can also be difficult to get back into the swing of things after you get out of them, especially if you work without progressing through a degree for a few years. With these tips, however, you will be able to better manage your routine regardless of whether this is the first time you are completing an online nursing degree or the last.
Importance of Routine
When it comes to successfully managing a degree on top of your career, routine is the way to go. Rather than try to jump into a new routine when your degree starts, prepare in advance, from working out your new sleep routine to getting used to studying during the day. For the best results, break up your study periods. In the morning, spend half an hour reading. During lunch, listen to a podcast. In the evening watch a documentary or read a book. By getting used to using your brain to learn during these periods, you can more easily shift into a productive routine once your degree begins.Split Up Study and Education Requirements
Breaking up your study periods reduces the strain on any one session. It also helps you memorize and learn better, as you aren't pushing your brain to the limits. The breaks in question shouldn't just occur between sessions either. If you have a longer study period after your work, then you should split that period up with productive breaks.
Productive breaks mean having something to drink and something healthy to eat. It means stretching out or going for a walk, or trying to engage a different area of your brain. Don't just scroll through on social media, as this doesn't give your brain a chance to wind down or to properly focus on anything else.
Health and Stress Management Tips
Improving your health and adopting the right stress management techniques are also key steps to improving your career and degree efforts. While routine should help improve your natural energy levels, you'll also want to improve what you eat, exercise more, and try to get out in nature as often as you can, as being outdoors can improve your mood and memory.
Caring for your body and being kind to yourself by splitting up extra work into manageable chunks is how you can complete any online degree better with less stress and greater success.